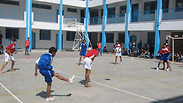 The school in which a tunnel was found in June
The United Nations Relief and Works Agency for Palestine Refugees in the Near East (UNRWA) discovered two weeks ago a Hamas attack tunnel underneath one of its schools in Gaza.

Israel was informed immediately upon the discovery. While Hamas has been digging dozens of tunnels throughout Gaza in a bid to infiltrate Israel and kidnap IDF soldiers or civilians, it was not immediately clear who was responsible for digging the recently revealed tunnel.

"The presence of the tunnel underneath an UNRWA facility," which enjoys immunity from international law, "is unacceptable and places the children and staff in danger," an UNRWA statement said.

Immediately after the tunnel's discovery, UNRWA staff closed down the school and sealed off the exposed space underground. The school resumed normal activities last Wednesday after ten days of closure.

Additionally, UNRWA officials complained to the relevant officials against the violation of the UN's policy of neutrality in areas where its forces and bodies are present.

A similar incident took place in June when a Hamas tunnel was found under a different school inside the Gaza Strip.

"The latest finding verifies once again that Hamas's cruelty knows no limits, including endangering centers of learning and education, and using children as human shields," Israel's UN Ambassador Danny Danon said in June.