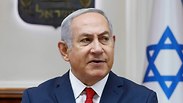 Prime Minister Netanyahu
Photo: EPA
Netanyahu: We didn't agree to ceasefire without halt of incendiary balloons
PM Netanyahu rejects reports ceasefire agreement between Israel and the Gaza terror factions includes only gradual reduction of incendiary balloons, while Defense Minister Lieberman adds: The IDF will not accept kites or rockets.
Prime Minister Benjamin Netanyahu stressed Sunday that Israel did not agree for a ceasefire that does not also include a complete and immediate halt to incendiary balloons and kites.

Sources in the Gaza Strip told Ynet the ceasefire agreement with Hamas and Islamic Jihad only includes a gradual reduction of the incendiary balloons being flown from the strip into Israel, where they cause fires that wreak havoc on thousands of acres of farmland and woodland.

"I heard it being said that Israel has agreed to a ceasefire that would allow the continuation of terrorism by incendiary kites and balloons; this is incorrect," Netanyahu said at the beginning of the Cabinet meeting. "We are not prepared to accept any attacks against us and we will respond appropriately."

Three fires caused by incendiary balloons have broken out so far Sunday in the Kibbutz Erez area.

Defense Minister Avigdor Lieberman also noted that the IDF "will not accept neither kites nor rockets."

"We've had a stormy weekend," the defense minister said. "As for the rest of the week, it's important to stress—we have no intention of accepting rockets, kites, drones or anything else."

"Hamas has suffered a serious blow. Offensive tunnels were destroyed, arms manufacturing and storage sites were destroyed," he said.

Lieberman also boasted the fact that "90 percent of the rockets fell in open areas or the Iron Dome managed to intercept them," adding "But even those rockets that did hit Israeli territory, even those Code Red sirens and the people who ran for shelter—even that is an unreasonable reality and we are not willing to accept it."

"I hope Hamas draw conclusions, and if they don't, they will have to pay a heavy price," the defense minister said.

Education Minister Naftali Bennett, however, criticized the decision to stop IAF strikes in the strip and agree to a ceasefire with Hamas and Islamic Jihad. "A ceasefire without stopping terrorism is surrender," he determined.

"For three months, we've been witnessing the fire terrorism, with some 1,000 explosive and incendiary balloons used against the Gaza border residents. Just in the past few days, the south's residents suffered some 200 rockets," Bennett lamented.

"In a timing that is convenient it, Hamas is dictating that we're now having a ceasefire. So let's make this clear: a ceasefire without stopping the fire terrorism is not deterrence, it's surrender," he stressed.

Bennett said he and Justice Minister Ayelet Shaked would object in the Cabinet to "any ceasefire that allows Hamas to rearm itself and allows Hamas to continue launching fire balloons towards the south's residents."

Intelligence and Transportation Minister Yisrael Katz took a similar hawkish position, saying Defense Minister Lieberman "must bring to the Cabinet a proposal to set a clear policy vis-a-vis Gaza—bringing down Hamas and eliminating terrorism, or a separation from any civilian responsibility (of Israel to Gaza) and the creation of a border with full deterrence, like with Syria and Lebanon. There's no option of continuing the existing situation. It's not fair on the Gaza border residents and it hurts Israel's security."

Gadi Yarkoni, the head of the Eshkol Regional Council, said that "As far as we're concerned, the ceasefire reached must include an immediate halt to the arson terrorism—the flying of balloons and kites that are burning our fields and disrupting our daily lives."

"We won't tolerate a reality of terrorism of any kind—nor (rocket) fire at our communities and not the arson of our lands, just like any other place in the country would tolerate it," Yarkoni added.

"We count on the IDF, back its operations to ensure the security of the residents, and expect the policy-makers to ensure immediate and long-term quiet and security," he concluded.

The mayor of Sderot, Alon Davidi, called on the prime minister and cabinet ministers "to come down south and hear the residents' feelings about the toughest weekend we had here since Protective Edge."