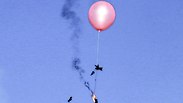 An incendiary balloon
Photo: AFP
The incendiary balloons and kites flown from Gaza, which have been causing hundreds of fires in Israel and destroying thousands of acres of crops and woodland, will not stop at once, but rather gradually, sources in the strip told Ynet on Sunday.

This has reportedly been part of the ceasefire agreement that Hamas and Islamic Jihad said Saturday night was reached with Israel to end the recent round of hostilities.

"If in the past, 50 balloons were flown every time, for example, then now 20 balloons will be flown, tomorrow 10, and the next day less. That's the agreement, and that is what has been decided between the sides," one source explained.

The source said similar agreements were reached with the help of Egyptian mediation after Nakba Day, the height of the "March of Return" campaign.

"It's exactly like the March of Return. There was a decision to gradually moderate it. At first there were protests every day, and slowly it became once a week. At the same time we reduced the number of protesters and activities," the source said.

Israel hasn't confirmed the ceasefire agreement, but the Home Front has lifted the restrictions imposed on the Gaza border communities. The Zikim beach has been reopened and the limitations on gatherings of large crowds have been lifted. The IDF also said that summer camps will operate as usual and the daily routine could be resumed.

A senior Israeli defense official said in response to the reports of a ceasefire: "Only the facts on the ground would dictate our response."

Despite the announcement on a ceasefire, four rockets were fired from the Gaza Strip into Israel early Sunday, with one of them intercepted by Iron Dome.

Education Minister Naftali Bennett harshly criticized the decision made by the government he is a member in to agree to a ceasefire.

"It's a grave mistake to allow Hamas, after two months of fires and hundreds of rockets fired at Gaza border communities, to dictates to us the terms of a ceasefire. I made it clear two months ago that restraint is going to result in escalation. We must order the IDF to act with force, sophistication and accuracy," vented the education minister.

Some 200 rockets were fired from the Gaza Strip at Israel on Saturday. Four Israelis were lightly hurt when a rocket hit outside their home.

The IDF attacked dozens of terror targets in the Gaza Strip. According to IDF Spokesman Ronen Manelis, Saturday afternoon's strikes were "the biggest daylight strikes carried out since Operation Protective Edge."