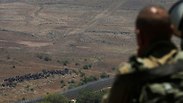 IDF soldier urges Syrians to turn around
Photo: Reuters
Syrian civilians approach Israeli frontier fence in Golan Heights
Footage shows columns of Syrians walking from refugees encampments to the Israeli border and stopping some 200 meters away, some reportedly waving white T-shirts, while an IDF soldier shouts on a megaphone in Arabic: 'Go back, we don't want to hurt you.'
Dozens of people walked on Tuesday from Syrian refugee encampments on the Golan Heights to Israel's nearby frontier fence, where they stopped some 200 metres (yards) away and were ordered by an Israeli soldier to turn back.

"You are on the border of the State of Israel. Go back, we don't want to hurt you," the soldier shouted in Arabic through a megaphone at the crowd, live Reuters TV footage showed.

"Go back before something bad happens. If you want us to be able to help you, go back," the army officer on the Israeli side of a frontier fence told the crowd in. "Get a move on."

Israeli soldier calls on Syrians approaching border to turn around (צילום: רויטרס)

Israel has given humanitarian aid to refugees in encampments close to a 1974 Israeli-Syrian disengagement line on the Golan but has said they would not be allowed to cross into Israeli-held territory.

The crowd, which included women and children, then walked back slowly towards the refugee encampment. Some stopped mid-way and waved white cloths in the direction of the Israeli frontier.


The gathering of the crowds marks the first protest during which people in the Syrian side of the Golan Heights have approached the border.

Recent weeks have witnessed a number of attempts by the local Syrian residents to make their way to the Israeli border in protest against Syrian President Bashar Assad's offensive and capturing of the area in his continued offensive that has recaptured swathes of land.

The Syrian government widened its offensive to recover the southwest last Wednesday, extending it to an enclave held by Islamic State-affiliated fighters as Russian warplanes targeted the area, a war monitor said.

Government forces unleashed hundreds of missiles on a rebel-held area near the Golan Heights on Sunday, the latest phase in an offensive to end the insurgents' presence in southern Syria.

One Syrian refugee in the Quneitra region explained the plight facing many civilians who are in the line of fire between the Syrian arm and the rebel insurgents.

"We are desperate for help and are in serious life-threatening danger. We hope that Israel will be able to take us in and we will continue from there to European states," the refugee told Ynet on Monday.

"Assad's army is a distance of six kilometers from Quneitra. If they let us in, we will never forget it," he added.

According to a report on Monday by the Syrian Observatory for Human Rights, President Assad's army is now in control of 90 percent of the Daraa province adjacent to the border and on Monday, it was reported that the Syrian army and its allies have taken control of the strategic hill of al-Haara overlooking the Golan Heights.

Daniel Salami, Yoav Zitun and Associated Press contributed to this report.