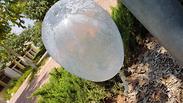 Incendiary balloon from Gaza
Incendiary balloon falls on kindergarten during kids' playtime
Hours after Netanyahu and Lieberman visit Gaza border region, threat intensifies after incendiary balloons lands in a kindergarten yard where children were playing; no casualties reported, as firefighting crews continue their battle against blazes caused by incendiary balloons flown from Gaza.
An incendiary balloon launched Tuesday from Gaza landed a kindergarten's yard in the Sdot Negev Regional Council where children were present at the time but none were hurt. A police sapper was called to neutralize the dangerous article.

The incident occurred only hours after a visit by Prime Minister Benjamin Netanyahu and Defense Minister Avigdor Lieberman in the region.

Earlier, IDF aircraft targeted a group of Gazans who launched incendiary balloons from the northern Gaza Strip into Israel. Firefighters have put out nine different fires caused by incendiary balloons flown from Gaza during the day.

Speaking during a visit to a regional military base, Netanyahu said: "We are in the midst of a campaign, there is an exchange of blows, and I can say that the IDF is prepared for every scenario. Like me, all Israeli citizens believe in and support the IDF ahead of any possible development."

Coordinator of Government Activities in the Territories for the Gaza Strip Col. Iyad Sarhan addressed residents of the Gaza region via Facebook saying Hamas is responsible for the closing of the Kerem Shalom Crossing.

"The heavy price you are paying is a result of the balloon and kite terror; yes, we absolutely consider these incidents terrorism, therefore the response will be harsh," he wrote.

"We can double the number of trucks entering the Gaza Strip every day, double or triple or even multiply them ten times. You, the merchants, the citizens and the people living in the Gaza Strip are paying the price of terrorism led by the Hamas leadership. We are not the address, questions should be referred to Hamas," he added.

When asked if the current crisis in the Gaza Strip could be resolved without embarking on a broader campaign, the prime minister replied, "I believe that we are doing the right thing. It is advisable that they start paying attention not only to what we are saying, but also to what we are doing."

Adressing the reports about the leaks from the security Cabinet meeting, Defense Minister Avigdor Lieberman said, "We heard a lot of talk about the security policy of the government. So first of all, it's worth explaining that security policy should not be a response to political or media pressure. We are operating both with force and intelligently. What we need now is coolness and nerves of steel… not media hysteria. We are doing what needs to be done. "

At the cabinet meeting Monday, Netanyahu ordered that all incidents of incendiary devices launched from Gaza be met with a response. "We are not prepared to accept any attacks against us and we will respond accordingly," the prime minister stated on Sunday.