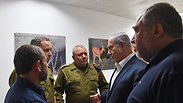 R-L: Defense Minister Lieberman, PM Netanyahu and IDF Chief of Staff Eisenkot
Photo: Kobi Gideon/GPO
'IDF is prepared for any scenario', says Netanyahu in Gaza briefing
Receiving situation assessment during visit to Gaza division with top military brass, including defense minister and IDF chief of staff, prime minister says 'we are doing the right things', deflects question on whether all-out campaign is necessary to put an end to terror gripping the border region.
Prime Minister Benjamin Netanyahu said Tuesday Israel was prepared for any scenario in the Gaza Strip, as tensions soared on the border over the weekend.

The prime minister held a situation assessment at the Gaza Division with Defense Minister Avigdor Lieberman, IDF Chief of Staff Gadi Eisenkot, Shin Bet Director Nadav Argaman, National Security Advisor Meir Ben Shabat and other senior officials.

"We are in a campaign that entails an exchange of blows and I can tell you that the IDF is ready for any scenario," he said afterwards. "I was very impressed by what I saw here and I know that like me, all Israeli citizens believe in the IDF and give it backing ahead of any possible development."

The prime minister was also asked whether the current problems gripping the border region could be solved without an all-out military campaign.

"I believe that we are doing the right things. It would be worthwhile to pay attention, not only to what we are saying, but to what we are doing," he replied.

Netanyahu also noted that it was the fourth anniversary of when Lt. Hadar Goldin and Staff Sgt. Oron Shaul fell during fighting in Operation Protective Edge in 2014, and whose bodies are still being held by Hamas.

"We are committed to bringing him and Oron Shaul, and the two civilians, back to the State of Israel," he said in reference to Avera Mengistu and Hisham al-Sayed.

"I visited Sderot yesterday and I saw the iron wall of their civilian determination and today I am visiting the IDF here, together with the defense minister, the chief-of-staff, GOC Southern Command and the Director of the ISA. I saw our military iron wall," Netanyahu stated.

Tensions escalated further Monday evening after Israel announced its decision to close the Kerem Shalom crossing, cutting off fuel and gas supplies to the Gaza Strip, but allowing medicines and food to pass through after a ceasefire agreement was violated earlier in the afternoon when a rocket was fired into southern Israel.

Shortly after, Hamas issued a statement warning "There will be severe consequences and Israel will have to take responsibility. It will never succeed in influencing the national position to continue the struggle and resistance until we achieve our rights and lift the siege."

During the prime minister's briefing, Defense Minister Lieberman also addressed leaks that surfaced about a heated exchange between Education Minister Naftali Bennett (Bayit Yehudi) and Eisenkot during a Security Cabinet meeting over conflicting opinions on how to handle the kite and balloon terror from the Gaza Strip.

"We heard a lot of things about security policies of the Israeli government. So, first of all, it is worth making clear that security policy is an answer to political or media pressure," Lieberman said.

"We operate both powerfully and wisely. What is necessary for us right now is coolheadedness and nerves of steel and not a timer in a hand and media hysteria. We are doing what we need to do," he added.