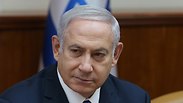 PM Netanyahu
Photo: Alex Kolomoisky
Netanyahu instructs IDF to end kite, balloon terror
During weekly Cabinet remarks, prime minister fails to elaborate on how army is expected to end the phenomenon plaguing south Israel as several fires break out in the region throughout the day; referencing weekend flare-up, Netanyahu says he hopes Hamas 'got the message; if not, they will get it later.'
Prime Minister Benjamin Netanyahu instructed the IDF Sunday morning to put an end to the phenomenon of kite and balloon terror from the Gaza Strip that has wreaked havoc on Israeli communities in recent months, scorching acres of farmland and forests and ravaging wildlife in southern Israel.

"I heard it being said that Israel has agreed to a ceasefire that would allow the continuation of terrorism by incendiary kites and balloons; this is incorrect. We are not prepared to accept any attacks against us and we will respond appropriately," Netanyahu said at the beginning of the Cabinet meeting.

"Over the Sabbath we hit Hamas in a significant way and hard. Our policy is clear: Whoever hurts us, we will hit them with great strength. This is what we did yesterday. The IDF dealt Hamas the harshest blow since Operation Protective Edge. I hope that they got the message; if not, they will get it later," he warned.

Despite the prime minister's tough words, he did not elaborate publically on how the IDF is expected to implement the instruction as fires caused by the flaming kites and balloons continued to erupt inside Israel.

Israel says it has lost at least 7,000 acres (2,830 hectares) of farmland and forests to a recent surge in fires started by Gaza terrorists using incendiary balloons and similarly rigged kites.

On Sunday afternoon, a 50-dunam Hummus farm was set ablaze near Kibbutz Alumim after an incendiary kite was launched from the Hamas-ruled strip.

In addition, a fire incinerated portions of the Asaf Simhoni Forest near Nahal Oz. Two other fires were extinguished in open fields near Kibbutz Be'eri.

In total, firefighters were forced to battle with six fires that broke out as a result of the flaming kites and balloons.

The notable drop in the number of kite-induced fires, which have averaged in recent weeks at around 20 per day, did little to allay the anxiety expressed by the southern residents.

With a major flare-up between Gaza and Israel gripping the border region over the weekend, The Israel Air Force resumed its retaliatory airstrikes Sunday when it attacked three Hamas terror cells launching incendiary balloon from the northern and central Gaza Strip into Israeli territory.

Unlike previous instances, in which the IAF fired near the incendiary balloon cells, this time they were fired at directly after intelligence emerged these cells included Hamas members.