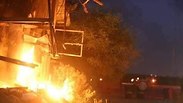 Hamas post attacked by IDF
IDF: Children used in 'trap' terror attack before deadly Gaza border violence
Army says riot was deliberately staged by children on Gaza border to lure IDF troops to disperse the unrest and place them within range of a sniper; incident led to IDF attacking 7 Hamas posts and killing 3 Hamas terrorists, critically wounding another Palestinian.
The deadly violence that took place on the Gaza border on Wednesday evening after Palestinian terrorists opened fire on IDF troops was caused, according to an initial investigation, when soldiers from the Givati Brigade were called to the Gaza border to disperse a "bait" riot staged by children before a sniper opened fire on them.

Three Palestinians belonging to the Hamas military wing were killed while another Palestinian was critically wounded in a retaliatory IDF attack along the border after a terrorist sniper opened fire on Israeli soldiers in a latest round of violence that has gripped the region in recent months.

Hamas outpost after being struck by IDF

The incident took place in the Kissufim area, just 400 meters away from where IDF soldier Staff Sgt. Aviv Levi was killed by a Hamas sniper on Friday afternoon on the Gaza border.


The IDF responded to what it has described on Wednesday evening as a "trap terror attack" by using children to lure soldier within the sniper's range, by attacking seven Hamas outposts.

An hour after the incident, a Code Red alert was sounded in the Hof Ashkelon Regional Council, but the IDF later confirmed that it was a false alarm.

The IDF said that the sniper attack was staged by a group of terror organizations in the Gaza Strip defined as rogue groups.

The attack is the most serious to have been carried out since a ceasefire was struck between Israel and Gaza on Saturday.

"The scope of the Israeli escalation in the Gaza Strip and its deliberate attacks on fighters of the resistance reflects Israel's intention to kill," a Hamas statement read. "These steps clearly demonstrate that Israel's leadership is criminal. We cannot remain silent in the face of its crimes. We will not forgo our obligation to defend the Palestinian people and to respond."

"The blood of the dead was not spilled in vain, Israel will pay a steep price," the terror group added.

The Palestinian Islamic Jihad terror group also responded to the incident. "The Israeli crime will not go unpunished. We are weighing all options for a response. We are still sticking to the equation of bombing will be met with bombing," it said.

In May, Hamas and Islamic Jihad published a joint statement saying: "We warn Israel against continuing to attack our people. All options are open to the resistance—bombings will be met with bombings and blood with blood. We will adhere to this equation—no matter the cost."