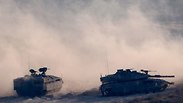 3 terrorists in Gaza killed by IDF after sniper shoots at soldiers
Another said to be in critical condition as latest wave of violence is triggered after terrorist opens fire on soldiers, prompting IDF tanks to attack Hamas outposts on the border; Code Red alert sounded in south Israel shortly after; incident takes place 5 days after IDF soldier is killed by Hamas sniper.
Three Palestinian terrorists in Gaza were killed and another critically wounded on Wednesday evening in a retaliatory IDF attack along the border after a sniper opened fire on Israeli soldiers in a latest round of violence that has gripped the region in recent months.
Israeli tanks began targeting at least 7 Hamas outposts along the volatile border, the IDF said, after the terrorists began shooting from the southern Gaza Strip.
Approximately one hour later, a Code Red alert siren was sounded in the Hof Ashkelon Regional Council.
Defense Minister Avigdor Lieberman convened a special security meeting in the Kirya Headquarters in Tel Aviv to discuss the situation with IDF senior officials.
The incident occurred in the Kissufim area where IDF soldier Staff Sgt. Aviv Levi was killed by a Hamas sniper on Friday afternoon on the Gaza border.
The sniper fire led to a retaliatory strike by the IDF that killed at least three Hamas terrorists.
The IDF attacked some 60 terror targets across the Gaza Strip with both tank and aircraft fire. So far, 15 targets were bombed at the Hamas Zaytun battalion headquarters. The headquarters were destroyed, while arms depots, training facilities, observation posts, the battalion situation room, the battalion commander's office and other infrastructures were hit.
The three Palestinians killed were from Hamas's military wing, the Izz ad-Din al-Qassam Brigade, while at least 120 Palestinians were reported wounded in the IDF's retaliation.
Earlier on Wednesday, a rocket alert siren was sounded in the southern Golan Heights, with the IDF originally concluding that the siren had been triggered by internal fighting in the Syrian civil war, and later confirming that errant rocket fire had in fact landed in Israeli territory.
The incident came a day after the IDF shot down a Syrian fighter jet that entered Israeli airspace from the northern border.
The IDF began investigating suspicions that the rocket may have landed in the Kinneret, Israel's northern water jewel.
Lieberman warned Friday morning that the Hamas terror group is leaving Israel with no choice but to launch a "wide scale and painful military campaign," as incendiary kites and balloons continue to fall from Gaza on Israeli border communities.
"We are making efforts to weigh matters and be responsible, but the heads of Hamas are forcefully leading us to a situation in which we have no choice, to a situation in which we will have to embark on a wide scale and painful military operation that is not intended for show—a wide scale and painful military operation," he emphatically repeated.