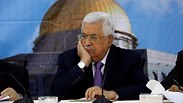 Palestinian President Abbas
Photo: Reuters
Palestinian President Mahmoud Abbas stressed Friday he would not allow a separate Palestinian state in the Gaza Strip and that any humanitarian aid to the strip must go through the Palestinian Authority.

Speaking at the closing session of the Palestinian Central Council meeting, Abbas said that "There is no state in Gaza nor an autonomy in the West Bank, and we will not accept this. We will never accept the separation of Gaza (from the West Bank)."

"Either we take control of authority as it is in Gaza and the West Bank—with one state, one system, one law and one weapon—or they (Hamas) takes control instead (in Gaza)," he said.




Egypt is finalizing details of a long-term truce deal between Israel and Hamas in Gaza amid repeat rounds of hostilities between the two sides.

Cairo has also brokered a Palestinian reconciliation agreement that provides for Hamas to cede control of Gaza to Abbas's Palestinian Authority. A dispute over power-sharing has hindered implementation of the deal, an Egyptian security source told Reuters Cairo was still seeking progress on the issue.

In Ramallah, Abbas insisted that reconciliation between his party Fatah and Hamas is not the same as a long-term agreement with Israel.

"Reconciliation for us does not mean a truce, ceasefire or humanitarian assistance. Reconciliation means that unity should be reinstated," he said.

Abbas also said that any humanitarian aid or financial support to Gaza must go through his own government. "Who rehabilitated the strip after the campaign in 2014? The money was transferred to me and we rebuilt. We rebuilt some 90 percent of the houses, they (Hamas) didn't rebuild even one house," he claimed.

Egypt has brokered an interim truce between Israel and Hamas that has allowed commercial goods into Gaza ahead of the Muslim Eid al-Adha feast which starts next week.

"We are putting the final touches to the terms of the truce that will be signed by all sides, and we expect to announce the terms next week if Fatah helps us to do so," the source said, referring to Abbas's mainstream party which dominates the occupied West Bank.

Officials from Fatah have not joined those of Hamas, which runs the Gaza Strip, and other Palestinian factions for the talks in Cairo on the long-term truce.

But Fatah's backing is crucial for any deal as the party retains a large presence in the Hamas-controlled Gaza Strip and has overall control in areas under Abbas's Palestinian Authority in the West Bank.

"The period of calm will be for one year, during which contacts will be held to extend it for another four years," the source told Reuters, speaking on condition of anonymity.

According to the Hezbollah-affiliated Al Mayadeen, the ceasefire will also include a sea route between Gaza and Cyprus with Israeli security supervision. Also as part of the deal, Qatar, with help from Egypt, will pay the salaries of Gaza government workers as well as pay the electricity bills in the strip, with help from Israel.

A long-term truce could pave the way for talks on other issues, including the easing of a blockade that has crippled Gaza's economy and allowing a possible swap of Palestinian prisoners in exchange for the bodies of two Israeli soldiers.

The source said Egyptian intelligence chief, Abbas Kamel, was expected to meet Abbas in Ramallah after similar talks in Israel, and a deal could be announced by next week. An Israeli official, speaking on condition of anonymity, confirmed Kamel had met with Netanyahu in Israel this week, but gave no details.

A Palestinian source in Ramallah said Kamel has left without seeing Abbas, who had been preoccupied with a Palestinian leadership conference. But the source said Abbas had informed Egypt that Fatah representatives would join the Cairo talks later this week or next week.

At the Palestinian Central Council, the Palestinian leader reiterated his opposition to American mediation in the conflict, saying "The US forced itself as a mediator between Israel and the Palestinians, and it cancelled the Quartet and others. There won't be any contacts between us and the American administration until they go back on their positions on Jerusalem, the refugees and the settlements."

He rejected US involvement as either the only mediator or as a part of an international group of mediators.

Abbas further stressed the Palestinians would turn to the UN General Assembly to demand a resolution against Israel's Nation-State Law. "The law says only Jews have the right for self-definition in the land of Israel. Where is the land of Israel? I don't know. Every state needs to have residents, a government and borders. Where are Israel's borders?"

Hamas's Gaza deputy leader in Gaza Khalil al-Hayya has said the negotiations on a long-term ceasefire were in their "final stretch," but will only be completed after the holiday of Eid al-Adha (Festival of Sacrifice), at the end of August.

"We are in favor of calm in Gaza so that our people can live in dignity while continuing the fight," he said.

On Friday, following a few days of relative calm along the southern border, hundreds of Palestinians rioted near the Gaza border fence.

Two were killed during clashes with IDF forces and another 60 were wounded. The protesters threw stones and Molotov cocktails from behind clouds of black smoke of burning tires at IDF troops, who responded with tear gas as well as live fire.

Reuters contributed to this story.