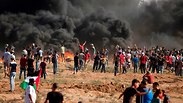 Demonstrations along the Gaza border fence
Photo: AFP
IDF kills two Palestinians on the Gaza border
Clashes at the Gaza Strip when a ceasefire deal is on the horizon: IDF kills two Palestinians in demonstrations on the Gaza border fence, fire erupts in the Gaza vicinity; Deputy Hamas leader: 'I support calm in the area so that our people can live in dignity and continue our fight.'
During a crucial moment in time, amid ongoing Egyptian efforts to broker a cease-fire deal, hundreds of Palestinians demonstrated near the border fence on Friday afternoon. Following a few days of relative calm, the IDF killed two Palestinians demonstrators on the border fence, and fires erupted in the Gaza vicinity, one of them in the Beeri Forest.
Two Palestinians demonstrators were killed and another 60 injured at a protest along the Gaza border amid ongoing Egyptian efforts to broker a cease-fire, Gaza's Health Ministry said Friday.
The protesters threw rocks and firebombs from behind clouds of black smoke of burning tires at Israeli troops, who responded with tear gas and sometimes live fire.
Israel's military said some Palestinians also threw improvised explosives and firebombs at the fence and that several were spotted briefly crossing into Israeli territory. It said troops "fired live rounds selectively according to standard operating procedures."
Earlier Friday, some 200 people came to support the family of the late Lieutenant Hadar Goldin, whose body has been held in the Gaza Strip for four years. Goldin's parents and brother arrived, for the 16th time, at the "Black Arrow" monument at the Gaza border.
The father, Prof. Simha Goldin, criticized Netanyahu: "After the spin doctors were frightened by the term 'cease-fire', because Hadar was killed and kidnapped during a humanitarian ceasefire, they invented a new term— 'arrangement'. So from here on out, I want to say to Netanyahu—this is not a ceasefire or an 'arrangement'- it's called 'appeasement.' Netanyahu knows exactly what it is; his father wrote a lot about it."
"Appeasement is what Chamberlain did when frightened by a tyrant and an oppressor…Bibi is not Churchill—Bibi is Chamberlain…To be Churchill he has to make the enemy understand the price he has to pay for his actions and we are not doing that," Simcha Goldin added.
"Anyone who enters Gaza now wants to appease Hamas and Yahya Sanwar (Hamas' new leader in Gaza), who is going to celebrate the folly of the prime minister's next week," Goldin stated.
"Netanyahu turned all Israelis into the biggest fools of the Middle East, and we will pay for this with blood," he continued.
"Residents of the Israeli periphery will pay for this after the Muslim holiday ends. Yihye Snowar has to report here and bring back Hadar and Oren and he will not get anything from me.
"If this does not happen, the Israeli government, who has been feeding the monster for four years, will cause the next war, just like Chamberlain brought a war to England," Goldin concluded.
An Israeli source confirmed Thursday that Egyptian Intelligence Chief Abbas Kamel visited Israel as the guest of the head of the National Security Council, Meir Ben Shabbat, and met with Netanyahu and Shin Bet chief Nadav Argaman.
Palestinian sources told Al-Hayat that Kamel discussed the final details of the arrangement with the Israeli side, including the completion of humanitarian projects in the Gaza Strip and future negotiations with Hamas over the exchange of prisoners and captives.
Meanwhile, Hamas officials have been meeting with Egyptian officials in Cairo, hammering out details of a possible truce with Israel.
The head of Egyptian intelligence visited Israel after two delegations of senior Hamas and Islamic Jihad figures attended the talks in Cairo in recent weeks. In addition, a Hamas delegation headed by Hamas deputy leader in the Strip, Khalil al-Hayya headed to Cairo Thursday.
Almost all Palestinian factions sent representatives to Cairo, except for Fatah, whose members are still boycotting the talks.
The Lebanese-affiliated Al-Mayadeen network reported Thursday that the truce agreement between Israel and Hamas would include a one-year ceasefire and the establishment of a sea route between Gaza and Cyprus under Israeli security supervision.
In addition, Qatar will pay the salaries of the officials in Gaza with the assistance of Egypt and will also pay the Gaza Strip's electricity bills in cooperation with Israel.
The Associated Press contributed to this report.