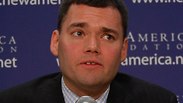 What the hell is going on with the Shin Bet?
Op-ed: I have a profound disagreement with Peter Beinart, and I'd rather dedicate an article to his distortions, but his questioning at Ben-Gurion Airport forces me to write an article against the Shin Bet instead. Not everyone who writes an article against Israel needs to be questioned.
What the hell is going on with the Shin Bet? Has someone there lost his mind? In very extreme cases, the state is allowed to question visitors when there's concern they might carry out hostile activity against it. And it is a state's right to deny entry to those who reject its right to exist. Any civilized nation has a list of undesirables, and Israel's lists are not much different to those of Britain or the US.

But something has changed. Someone's got a happy trigger finger. Now it's the "questioning" of Peter Beinart, which follows other unnecessary questioning of "suspects" that there was no reason to suspect them of anything. Not everyone who wrote an article against Israel or against one policy or another of the Israeli government needs to be questioned. And if that was the case, then 80 percent of academics, NGO members and journalists—including yours truly—would have to be detained and questioned.

The thing is that in recent months, someone at the Shin Bet has decided to act in the service of Israel's vilifiers and provide proof to those who claim Israel has stopped being a democracy.

Beinart is a very prominent figure in the Jewish left-wing in the US. I have a profound disagreement with him. I had a public confrontation with him in London. I'd rather dedicate an article to his distortions and positions, but his questioning at Ben-Gurion Airport forces me to write an article against the Shin Bet, instead.

About two weeks ago, Iranian-American author Reza Aslan was also detained and questioned for hours. And this is how Israel gets a double dose of negative PR.

These detainments don't point to Israel deteriorating and turning into a police state, or to the end of democracy. They point to the loss of discretion and to a severe level of stupidity, and that is no less grave.

And anyway, why is a journalist being questioned? After all, everything Beinart and his ilk have to say, they say in writing. They don't belong to any underground movement. They don't hide anything. So what is there to ask? Leading newspapers around the world have published far more scathing articles against Israel than Beinart's. Does the Shin Bet plan on detaining each and every one of these writers, if and when they arrive at Israel's gates?

We don't have to wait for it to happen to know that every detainment like this is a propaganda gift to Israel's haters on the one hand, and useless on the other. People like Beinart can write in almost any important newspaper in the world. And it's clear even before it happens that any detainment or questioning of such journalists will get worldwide coverage, and not be limited to social media. So, why? Beinart, by the way, has already recounted his experience in Forward magazine. It was obvious this would happen.

It was good that Netanyahu ordered to look into Beinart's questioning. It won't prevent the damage that has already been caused, but perhaps—and hopefully—it could stop the unnecessary questionings.

Beinart's reaction was, of course, arrogant: He took advantage of the opportunity to demand of Netanyahu to stop the harm done to Palestinians at checkpoints. Come on. Too many Palestinians have tried to enter Israel to carry out terror attacks—and not because of the occupation, but because of the incitement to hate Jews for being Jews. Because they're part of jihad. There's no correlation between detaining and questioning Palestinians at the entrances to Israel and the detaining and questioning of left-wing activists. One unnecessary kind of questioning doesn't mean the other type of questioning is unnecessary as well. There's no need to mix one matter with another.

The fact the prime minister apologized for the incident proves this was stupidity, not policy. But Beinart has a hard time understanding this.

The Shin Bet needs a political Commissar; someone who understands the global left-wing map. Someone who could differentiate between the activists of the campaign to eliminate Israel—who should be denied entry—and journalists or left-wing activists—who have a right to criticize Israel, call for a boycott on settlement products and even curse the Israeli government without anyone detaining them as they enter or leave Israel.