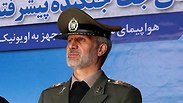 Iranian Defense Minister Amir Hatami
Photo: EPA
Iran: axis of resistance ready against any attack on Syria
After Islamic Republic signs military cooperation deal with Syria, Defense Minister Amir Hatami tells Al Mayadeen that Netanyahu's threats against Iran are 'far from reality', says no other country has right to opine on Iranian presence in Syria.
Iranian Defense Minister Amir Hatami said on Monday that an "axis of resistance is prepared and ready to always respond to any attack against Syria."

The comments come after Iran and Syria signed a deal for military cooperation in a meeting between the defense ministers of the two countries in Damascus, the Tasnim news agency reported earlier on Monday.

"The presence of the Iranian forces in Syria is in accordance with a request in Damascus, and no other country has the right to express an opinion on this presence," Hatami said in an interview with the Lebanon-based Al Mayadeen satellite channel.


The defense minister also directly addressed the threat of Israeli attacks against Iran, which has been a chief sponsor of the Hezbollah terror group openly bent on Israel's destruction.

"According to my knowledge of Iran's capabilities, in my opinion (Prime Minister Benjamin) Netanyahu's threats of attacks against Iran are far from reality," he said.

Netanyahu led efforts against Iran nuclear deal, culminating in US President Donald Trump's May withdrawal from the 2015 accord.

Since then, Israel and Iran have remained arch enemies, with the two countries trading threats as Netanyahu continues attempts to rally the world into a united force against what he says is the chief sponsor of international terror.

In February, Netanyahu said Israel would act against Iran, not just its allies in the Middle East, if needed, reiterating that Tehran was the world's greatest threat.

"The Syrian government will not allow anyone to attack it without there being a response. The Syrian government reserves the right to respond to any attack, as in the past," Hatami told the Hezbollah-affiliated channel.

"The Syrian government and its allies are ready to respond to any attack. Iranian-Syrian relations have never been so strong and friendly, and cooperation is also stronger than ever," he continued.

Asked about Iran's relations with Russia, which has backed Syrian President Bashar Assad's government and helped it win back swathes of territory in the years-long civil war, Hatami said: "We had good relations with Russia in the past, but now they are only getting better."

The agreement Iran signed between Syrian and Iran, Hatami said, committed the two sides to rebuilding Syria's army.

"We signed an agreement with Syria, and the most important clause in it is the rebuilding of the military forces in the country," he said. "Through this agreement, we have paved the way for the new establishment of the Syrian defense industries. The world's war against Syria has not yet ended."

Describing his meeting with the Syrian leader as "extremely good", Hatami added that President Assad's motivation was clear.

"Assad speaks with courage and determination and he led the army in an exemplary fashion," Hatami said, adding that Syria had sought help from a number of countries, among them Russia and Iran.

"Certain countries entered Syria without any request in order to exploit the security situation in the region. They must withdraw immediately. Anyone who enters another country without being asked to by that country is considered a belligerent and an occupier," he said in an apparent dig at the United States.

"Hezbollah in Lebanon is a force that has a lot of influence and is of very high importance in the struggle against terror in Syria alongside Iran and Russia," said Hatami.

He also emphasized that the terror group was in Syria as part of a request from Syria and that the two were in close coordination with one another.

"Hezbollah is an independent, capable and independent force which had a positive effect on maintaining security in Syria and we must thank them for their efforts," he insisted.

The Iranian defense minister also rejected accusations that Assad had used chemical weapons in the civil war, which claimed lives of innocent civilians, including women and children.

"There is no country in the world that would use chemical weapons at a time when it is winning. A victory in Syria was meant to deepen peace and stability in the Syrian region," he argued.

Hatami claimed that Iran was seeking regional peace and security. "Iran defends the right of the Palestinian and the people of Yemen," he said.