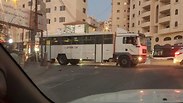 Bus accidently enters Qalandiya
Two IDF soldiers and a female officer from the mixed Karakal combat Battalion were lightly wounded Sunday in Qalandiya after Palestinians hurled stones at their bus that accidently entered the Palestinian refugee camp.

The officer sustained injuries to her face and limbs caused by broken glass shards. She and the two additional soldiers wounded in the incident were evacuated to the hospital to receive medical attention.

Bus accidently enters Kalandia (קבוצת תקשורת ירושלים ועוטף)

Border Police officers detained three Palestinian in their 20s and 30s suspected of attacking the bus, two of whom reside in Qalandiya and one in Ramallah.

Border Police and Karakal forces—assisted by Palestinian policemen—extricated the bus from Qalandiya shortly after the Palestinian defense establishment and the IDF activated their rescue protocols.

In addition, security forces that were called to the scene fired into the air to disperse the violent crowd.

During the disturbances, one of the Border Police officers sustained an injury to his head despite wearing a helmet and was evacuated to the Shaare Zedek Medical Center in Jerusalem while fully conscious.

The IDF said the circumstances leading to the incident would be investigated.

Border Police force commander, Sgt. 1st Class Eyal Abas said, "After the report (of the attack on the bus) was received, Border Police forces operating in the area drove towards the bus.

"Upon their arrival, the forces saw dozens of Palestinians throwing stones and other objects at the bus, prompting them to use crowd-dispersal measures," Abas elaborated.

"By acting in a professional manner, the forces managed to rescue the soldiers from the refugee camp," he concluded.

In February, two soldiers who accidentally entered the West Bank city of Jenin were attacked by young Palestinians who encircled the military vehicle.

The two soldiers, a man and a woman, were wounded by stones. One of the soldiers' weapon was stolen, the IDF said.

A week earlier, an Israeli citizen drove into the Palestinian town of Abu Dis near Ma'ale Adumim on a Friday evening and was attacked by Palestinians, who torched his car and lightly wounded him.