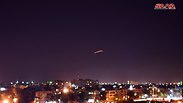 Israeli aircraft strike near Damascus airport
Syria: we downed Israeli missiles near Damascus airport
Syrian media reports that 'Syrian defense systems were activated and a number of missiles were intercepted'; IDF: 'Israel does not comment on foreign reports'; earlier, loud explosions were reported but Syria claimed that it was part of 'controlled detonation of terrorist tunnels.'
Syria's state media says Israel has launched a missile attack on Damascus International Airport Saturday, adding that Syrian air defenses shot down some of them.

An Israeli military spokeswoman said Israel does not comment on foreign reports.

The Saturday night attack shook the capital Damascus as blasts were heard in the city. Syrian media quoted an unnamed military official without giving further details.

Rami Abdurrahman who heads the Britain-based Syrian Observatory for Human Rights said the missile attack targeted an arms depot near the airport where new weapons recently arrived for the Iranians or Lebanon's Hezollah group.

Israel rarely acknowledges strikes inside Syria but has said it would use military action to prevent weapons transfers to its enemies.

"Our air defense systems thwarted an Israeli missile aggression on Damascus International Airport," Syrian state news agency SANA cited a military source as saying.

Witnesses at a major trade fair in the capital Damascus said they saw flares shooting up into the night sky.

Israeli aircraft strike near Damascus airport (מתוך סוכנות הידיעות סאנא)

Two weeks ago, the Syrian Human Rights Center reported that Israel was behind an attack on a military airbase in Damascus, and that people were injured and killed as a result.

Syrian state media said loud blasts coming from an airbase were the result of an electrical problem, but an official in the regional alliance backing Damascus said they were caused by Israeli missile fired from across the Golan Heights frontier between the two countries.

Earlier this month, a senior IDF source revealed that over the past year-and-a-half the army has carried out approximately 200 attacks in Syria.

According to the official, the strikes targeted mainly advanced weapon systems and infrastructure sites belonging to the Iranian Revolutionary Guards located in Syrian territory.

In total, some 800 missiles and bombs were launched at targets on Syrian soil, the majority by IAF fighter jets.

Israel has repeatedly stated that it will not tolerate an Iranian military presence of any kind in Syria, which has been supporting President Bashar Assad's regime and abetting terror proxies such as Hezbollah in the ongoing civil war.

According to regional sources, Israel began carrying out military strikes in Syria in 2013 against suspected arms transfers and deployments by Iranian forces and their Lebanese Hezbollah allies, both Damascus's partners in Syria's civil war.

Last month, at the renaming ceremony of the Negev Nuclear Research Center near Dimona, Prime Minister Benjamin Netanyahu addressed the agreement between Iran and Syria saying,"the IDF will continue acting with full determination and with full might against Iran's attempts to station forces and advanced weapons systems in Syria, and no agreement between Syria and Iran will deter us, nor will any threat frighten us."

"We are working to prevent Iran's military buildup in Syria. We will not let go of this goal, just as we did not let go of the effort to bring about the cancellation of the nuclear agreement with Iran, which was perceived as impossible when I first placed it on the international agenda a few years ago," he stressed.