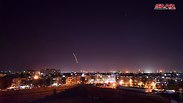 The Syrian Observatory for Human Rights said Monday 113 Iranian and militias members identified with the Islamic Republic were killed during the two past months in Israeli airstrikes in Syria.

According to the Observatory, Iranian officers, and at least 28 pro-regime Syrian fighters were killed in the explosions of the arms depots and warehouses that were attacked since April and which Syria attributed to Israel.

Among the Iranian targets in Syria that were struck are the Al-Nayrab military airbase near Aleppo, Mezzeh military airport on the western edge Damascus, several locations in the Quneitra province that were repeatedly attacked, Dabaa military airfield in the Syrian province of Homs near the Syrian-Lebanese border, T-4 military airfield, locations in south west Syria, Aleppo International Airport, and the military airport in Hama.

In addition, according to the Syrian opposition head, Israel has attacked in recent months weapons depots near the Damascus International Airport and the coastal city of Baniyas, the town of Masyaf, Hama and other suburbs of the Syrian capital.

Following the attack on the Damascus International Airport Saturday which Syria also attributed to Israel, Syrian state news agency SANA reported the country's defense systems were activated and several Israeli missiles were intercepted.

"Our air defense systems thwarted an Israeli missile aggression on Damascus International Airport," the news agency SANA cited a military source as saying.

An Israeli military spokeswoman said Israel does not comment on foreign reports.

According to the Arab media outlets, the attack was directed against advanced weapons depots containing new arms delivery. They added severe damage was caused, but no casualties were reported.

Two weeks earlier, Syria said a series of explosions took place in at the Mezzeh military airport in Damascus. However, the Al Jazeera news network reported the attack targeted the scientific research center in the Jamraya area on the outskirts of Damascus.

Furthermore, it is estimated that since the beginning of Syria's civil war, 8,004 non-local fighters have been killed, most of them Shi'ite operating under the auspices of the Revolutionary Guards, and 1665 Hezbollah activists.

The Observatory added that 32,000 foreign fighters took part in the fighting in the war-torn country over the past seven years.