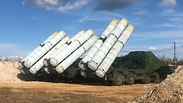 S-300 anti-missile batteries
Photo: EAP
Syria warns Israel will 'reconsider' before attacking again
With Russian advanced S-300 air defense system on way to Syria in wake of diplomatic spat caused by IAF's attack on Latakia and Syria's accidental downing of Russian spy plane, an emboldened deputy foreign minister says 'every attack on Syria is an attack on all forces operating there against terror.'
A senior Syrian official has warned that Israel will need to think twice before attacking Syrian targets, following a Russian announcement that it will be supplying an S-300 anti-missile system to its ally.

Moscow made the announcement in response to the downing of the Ilyushin IL-20 Russian spy plane by Syrian air defenses while trying to repel an IAF attack on the coastal city of Latakia.

"Israel, which got used to carrying out many attacks under different pretexts, would have to recalculate and reconsider before attacking again," said Syrian Deputy Foreign Minister Faisal Mekdad, emboldened by the latest development.


The Russian Defense Ministry announced on Sunday that Israel bears responsibility for the Syrian downing of the Russian reconnaissance plane during the Latakia offensive, despite Jerusalem's claims to the contrary.

Mekdad made the comments to the Xinhua news agency on Tuesday and was quoted in the Russian-owned Sputnik news outlet.

It was reported on Tuesday that the first shipment of electronic jamming systems from Russia had already reached Syria, despite Israel and the US warning Moscow against escalating tensions that have arisen from the plane's downing, which Israel attributed to Syrian incompetence.

Israel has cautioned Moscow against supplying the advanced air defense system to President Bashar Assad's forces amid concerns that it would compel a revision of the Israel Air Force's strategy and inhibit its freedom in the skies.

Israel has carried out at least 200 attacks in the past year-and-a-half on targets in Syria as part of its declared objective of preventing Iranian military entrenchment in the country and preventing the transfer of advanced weapons to the Iranian-sponsored Hezbollah terror group.

According to Mekdad, "the S-300 missiles that the Russians plan to supply within two weeks will be used for defense only. Syria will continue to defend itself as it has done until now."

Mekdad went on to say that relations between Syria and Russia have become even deeper and are guided by loyalty. "Every attack on Syria is an attack against all forces operating there against terror," he said.

Despite the Russian supply of the S-300 system, Prime Minister Benjamin Netanyahu said on Tuesday that Israel will continue to act in order to prevent Iranian entrenchment in the region.

"In the past three years, Israel has been very successful in preventing the Iranian military from setting up bases in Syria and attempting to supply lethal weapons to Hezbollah. We did this with maximum and successful security coordination with the Russian military," the prime minister said before flying to New York to address the UN General Assembly.