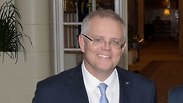 Scott Morrison
Photo: Getty Images
Australian Prime Minister Scott Morrison is considering following in the footsteps of US President Donald Trump and recognize Jerusalem as the capital of Israel by relocating the Australian embassy from Tel Aviv to Jerusalem, according to Australian media sources.

Morrison is due to deliver a speech on foreign policy on Tuesday, during which he is expected to clarify the issue. According to reports in Australia, the decision is linked to the country's elections and internal political considerations as Morrison hopes to win the Jewish vote.

Morrison said that he was influenced by Dave Sharma, the former Australian ambassador to Israel, who is running for a seat in the Australian parliament on behalf of the Liberal Party in the district of Wentworth, where 12 percent of voters are Jewish, replacing former Prime Minister Malcolm Turnbull.

However, Morrison denied reports that his declaration on the subject had anything to do with political considerations.

Morrison also said that the review of Australia's position "does indicate a shift in our thinking as a government" but denied they were inconsistent with long-held policies and maintained that he was committed to a two-state solution for Israel and the Palestinians.

The prime minister also announced that his government would consider whether to withdraw from the Iran nuclear agreement, following President Trump's withdrawal.

"There are, of course, existential questions for countries like Israel, and I want to examine our position on this issue and to do it systematically, and we share genuine concern about Iran's ability to undermine stability in the Middle East, especially with respect to our ally Israel."