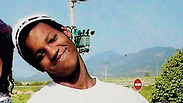 A social media campaign titled "brother we didn't forget you," which marks 1,500 days since Israeli citizen Avera Mengistu willingly entered Gaza and since then believed to be held captive by Hamas was launched Tuesday, accompanied by a support rally in Jerusalem.
"1,500 days, who would have thought it would come to this?" Mengistu's brother Ilan wrote in a letter to Ynet.
"What did you do in the past 1,500 days? Did you start high school? Finish your exams? Enlist in the IDF? Traveled the world? Met someone, got married and sent your child to kindergarten for the first time? Did you graduate from university? There is so much that you can do in 1,500 days," Ilan bemoaned.
"1,500 since my brother went missing—a young citizen, who despite his mental illness, still has his whole life ahead of him," he exclaimed.
Ilan urged the government and the international community to intervene in the situation and rescue his brother.
"My brother has been held captive by Hamas for the past 1,500 days, without a sign of life, without treatment, without hope for our family. With a broken heart, we are demanding that the government and the international community do everything in their power to bring Avera back home so that the tragic count of missing days can come to an end," he stressed.
Last month, the family members of Avera Mengistu and Hisham al-Sayed—the second Israeli citizen held in captivity in Gaza—called on Hamas to release their loved ones, insisting that they suffer from mental health problems.
Muslims and Jews of Ethiopian descent held a joint prayer service calling for the release of the their two community members in Amharic, Arabic and Hebrew.
The families have launched an international campaign demanding that the treatment of prisoners with special needs not be affected by political considerations. Relatives of the captive citizens delivered a speech, with large posters bearing the captives' faces, along with the caption "#SpecialNeedsCaptives."
During the joint prayer service, Ilan recalled horrors his family has experienced over the past four years since his younger brother crossed the border.
"He went through a difficult mental crisis after the premature death of our brother, Michael. He went through psychiatric evaluation and spent time in psychiatric hospitals," Ilan told the crowd.
"Unfortunately, he was discharged before receiving appropriate medical care. Avera crossed the border into Gaza as a helpless and mentally ill man," he added.
"Hamas, instead of immediately releasing him as is required by the international law, is holding onto him as a political card for political negotiations with Israel," he asserted, reiterating that "a man with special needs is being held in captivity. How cruel."
Ilan then addressed Hamas leader Yahya Sinwar. "Behave like a human being and take into consideration my brother's state of mind of and the suffering of my family. Release Avera and Hisham today," he concluded.
Meanwhile, no progress has been made in bringing Mengistu and al-Sayed back home.
Furthermore, no signs of breakthrough are noted regarding the retrieval of the bodies of IDF soldiers Hadar Goldin and Oron Shaul also held captive by Hamas.
In recent weeks, the situation in Gaza have only worsend, and in the last couple of days, Defense Minister Avigdor Lieberman repeatedly threatened Hamas. "We have reached a point where we have to strike 'the biggest blow' on Hamas", he said.
Last year, Mengistu's family addressed the UN at its headquarters in New York, calling for international pressure to be exerted on the terror group to release Avera.
According to the family, the government did not do enough to bring Avera back, and talks with the coordinator for Israeli MIAs and POWs, Yaron Bloom, have produced nothing. Bloom did not respond to these claims at the time.