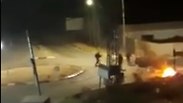 Palestinian killed during overnight clashes with IDF in Tammun
Palestinians hurl stones and shoot off fireworks a IDF forces entering the West Bank village to carry out an arrest; 21-year-old Palestinian killed in ensuing clashes; Israeli security forces also arrested 16 suspects across the West Bank.
A young Palestinian man was killed overnight Tuesday in clashes with the IDF in the town of Tammun in the West Bank, between Nablus and Jenin.
Some 50 Palestinians started rioting when an IDF force entered the village during the night to carry out an arrest. They hurled stones at the troops and set off fireworks in their direction. The soldiers responded with crowd dispersal measures and with live fire.
According to the Palestinians, the 21-year-old Mohammed Bsharat was shot in his chest and evacuated to the hospital, where he succumbed to his wounds. At least five other rioters were wounded in the clashes.
Clashes in Tammun
The IDF is looking into the Palestinian claim the man was killed from Israeli fire.
During the night, Israeli security forces arrested 16 wanted men in the West Bank suspected of involvement in terror activity, popular terrorism and violent rioting. The suspects were taken in for questioning.
IDF troops also seized two locally-produced weapons during a search for illegal weapons in the Menashe Territorial Brigade area.
On Tuesday night, IDF soldiers at the checkpoint near Halhul opened fired in response to what they believed was shooting in their direction from a moving vehicle. An initial investigation found no one had opened fire on them. No one was hurt, but a suspect was arrested.
On Monday, a terrorist stabbed a military driver in Hebron. The driver shot and killed his attacker.
The Associated Press contributed to this report.