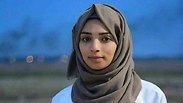 MPCID to launch criminal investigation into Gaza medic killing
The army received testimonies of Palestinians according to which IDF soldiers kneeled and aimed straight at 21-year-old volunteer medic Razan Ashraf Najjar, prompting the Military Police Criminal Investigation Division to launch an investigation into the incident.
The Military Police Criminal Investigation Division (MPCID) will question the IDF soldiers who shot dead 21-year-old volunteer medic Razan Ashraf Najjar east of the south Gaza city of Khan Yunis in June.

The IDF said Monday that the findings of the incident's operational investigation as well as the General Staff operational debriefing have been transferred to the Military Advocate General.

Najjar was killed during one of the "March of Return" riots along the Gaza border fence. In her line of duty, she treated Palestinian casualties.

Following the debriefings of the Southern Command and the General Staff operational debriefing mechanism, it was concluded it is unknown what caused Najjar's death.

However, According to testimonies of Palestinians transferred to the IDF by an international organization which operates in Gaza, the IDF soldiers kneeled and aimed straight at the medic, which prompt the MPCID investigation during which the soldiers and their commanding officers will be questioned.

An initial investigation of the incident indicated that the troops did not fire directly at Najjar, and the possibility she was hit by a bullet ricochet was considered.

Six days after the incident The IDF's Arabic-language spokesman Avichay Adraee posted a video on his Facebook page purporting to show the 21-year-old Palestinian throwing a gas grenade.

Razan Najjar throwing grenade (צילום: דובר צה"ל)

"She's not a merciful angel as Hamas are trying to portray her," the text on the screen says. "Hamas used her as a human shield, as it uses the entire Gazan population for its and Iran's purposes.

"Do other medics in the world hurl grenades, participate in riots and call themselves human shields?" the Facebook post read.

Thousands of people attended Najjar's funeral in Gaza, including some she had treated when they were wounded at previous border protests and hundreds of medical workers in white uniforms.

Najjar's body was wrapped in a Palestinian flag as the funeral procession started from the hospital and passed near her home in Khuzaa, a village near Khan Yunis that is close to the border and has served as one of five protest encampments across Gaza in recent weeks. She was the eldest of six siblings.