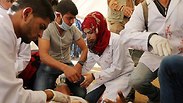 Najjar treating Palestinian wounded
The IDF said on Saturday it was investigating the apparent killing by its troops of a Palestinian nurse on Friday during protests along the Gaza border.

Health officials and witnesses said Israeli forces shot dead 21-year-old Razan Ashraf Najjar, a volunteer medic, as she ran towards the border fence, east of the south Gaza city of Khan Yunis, in a bid to reach a casualty.

The IDF said Palestinian terrorists had attacked its troops along the border with gunfire and a grenade.




In a written statement on Saturday, the military said it would investigate Najjar's death.

Thousands of people attended Najjar's funeral in Gaza on Saturday, including some she had treated when they were wounded at previous border protests and hundreds of medical workers in white uniforms.

Najjar's body was wrapped in a Palestinian flag as the funeral procession started from the hospital and passed near her home in Khuzaa, a village near Khan Yunis that is close to the border and has served as one of five protest encampments across Gaza in recent weeks. She was the eldest of six siblings.

"With our souls and blood we redeem you martyr Razan," cried mourners as the body was brought to her home for a last farewell before burial.

Residents said Najjar was a popular figure at the protest sites and pictures depicting her as an angel circulated on Palestinian social media.

"I want the world to hear my voice ... what's my daughter's fault?" asked her mother Sabreen, dressed in black and seated on a mattress in her living room. "She will leave a large emptiness at home."

Fares al-Kidra, a colleague of Najjar, said they were approaching the fence to evacuate a wounded man and, as they were leaving, three gunshots were heard and Najjar fell to the ground.

Al-Mezan, a Gaza-based rights group, said Najjar was 100 meters from the fence and wearing a clearly marked paramedic's vest when she was shot.

Social media videos, and one captured by Associated Press footage, showed Najjar and a cohort of medics walking toward the fence and raising their hands to reach a wounded man lying on the ground. Najjar wore a dark blue headscarf and a white coat with the logo of the Palestinian Medical Relief Society, where she volunteered.

Izzat Shatat, 23, a volunteering ambulance worker, said he and Najjar were set to announce their engagement at the end of the holy month of Ramadan. He said he was worried and asked her not to go to the border area Friday but she refused.

"She helped all people. She has never refused to help. She was the first to run toward anybody when he is shot," he said in tears.

After the funeral, dozens of mourners headed to the fence and started throwing stones at the Israeli soldiers on the other side. The Palestinian Health Ministry said five protesters were wounded by Israeli fire.
Condemnation
The UN Middle East peace envoy Nickolay Mladenov said on Twitter: "Medical workers are #NotATarget!"

"#Israel needs to calibrate its use of force and Hamas need to prevent incidents at the fence. Escalation only costs more lives," he added.

Israel has drawn international condemnation for its use of deadly force during the mass demonstrations.

The Palestinians say most of the dead and the thousands wounded were unarmed civilians against whom Israel was using excessive force, while a Hamas official admitted many of the dead were members of the terror organization.

In a statement published by the Palestinian official news Agency Wafa on Friday, Health Minister Jawad Awwad condemned Najjar's killing and said it violated international law.

The IDF said in its statement: "The IDF (Israel Defense Forces) constantly works to draw operational lessons and reduce the number of casualties in the area of the Gaza Strip security fence. Unfortunately, the Hamas terror organization deliberately and methodically places civilians in danger."

On Friday the United States, Israel's ally, vetoed a Kuwaiti-drafted UN Security Council resolution that condemned Israel's use of force against Palestinian civilians.

Later, a second, US-drafted resolution that blamed Hamas for the violence and upheld Israel's right to defend itself failed to attract any other country's support when it was put to vote in the 15-member council.