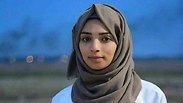 The IDF's Arabic-language spokesman Avichay Adraee posted a video on his Facebook page on Thursday purporting to show Palestinian nurse Razan Najjar, who was killed in clashes on the Gaza border last week, throwing a gas grenade.

"She's not a merciful angel," text on the screen says. "Hamas used her as a human shield."

Najjar, 21, is the second woman killed in the rioting since they began in March. She lived Khuzaa, a village near Khan Yunis that is close to the border and has served as one of five protest encampments across Gaza in recent weeks.

Razan Najjar throwing grenade (צילום: דובר צה"ל)

Palestinian health officials and witnesses claimed IDF forces shot dead Najjar, a volunteer medic, as she ran towards the border fence, east of the south Gaza city of Khan Yunis, in a bid to reach a casualty.

Fares al-Kidra, a colleague of Najjar, said they were approaching the fence to evacuate a wounded man and, as they were leaving, three gunshots were heard and Najjar fell to the ground.

Al-Mezan, a Gaza-based rights group, said Najjar was 100 meters from the fence and wearing a clearly marked paramedic's vest when she was shot.

Social media videos, and one captured by Associated Press footage, purported to show Najjar and a cohort of medics walking toward the fence and raising their hands to reach a wounded man lying on the ground. Najjar wore a dark blue headscarf and a white coat with the logo of the Palestinian Medical Relief Society, where she volunteered.

An initial IDF investigation of the incident found that while a small number of bullets were fired during the incident, the gunfire wasn't aimed at the Palestinian nurse. One possibility is that Najjar was killed by the ricochet of a bullet.

The IDF said the investigation is still ongoing.

The Associated Press contributed to this report.