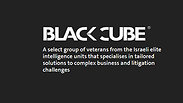 Black Cube
Photo: Screenshot
Former Mossad chief Efraim Halevy will be joining Israeli private intelligence firm Black Cube, which has been mired in international scandals.
Halevy will sit on the company's board of directors, head its client screening committee, and serve as a senior adviser on operational and intelligence issues, a source told Yedioth Ahronoth.
The source added that Halevy might even be selected as president of the company within a short time.
This is another significant recruitment for the company, which has a number of former senior members of Israel's security and intelligence services on its board of directors, including former Mossad chief Meir Dagan, former police commissioner Yohanan Danino and former national security advisor Maj. Gen. Giora Eiland.
Halevy, who was born in London in 1934, is a descendant of an illustrious family of rabbis. He worked in journalism for several years until he was recruited by the Mossad in 1961, where he held several positions, most of them in the Tevel division, which coordinates the clandestine foreign relations of the organization.
He was the Mossad attaché in Washington; the head of the Bitzur branch, which deals with the protection of Jews in dangerous countries and with bringing them to Israel; the head of the aforementioned Tevel division; the deputy head of the Mossad and the Israeli ambassador to the European Union in Brussels.
Because of Halevy's good relations with Jordan's former King Hussein, Prime Minister Benjamin Netanyahu recruited his help in 1997 after Israel's failed an assassination attempt on Hamas leader Khaled Mashal in Amman, which sparked a crisis with the Hashemite Kingdom. After Halevy was able to reach a deal with the Jordanians to resolve the crisis, securing the release of the Mossad agents who carried out the failed attempt, he was appointed to head the Mossad.
He served in the post until 2002, when he was appointed the head of the National Security Council, but resigned in 2003 after bitter disagreements with Prime Minister Ariel Sharon. Since then, Halevy has served in several positions in academia and as an advisor for several international organizations.
Since its establishment by Dan Zorella and Avi Yanus in 2011, Black Cube has become one of the world's most famous private intelligence and investigation companies. It is known to offer prosperous and powerful private sector companies assistance in resolving business disputes, but it has often been associated with problematic customers and international scandals.
For example, the company helped disgraced Hollywood mogul Harvey Weinstein gather information about victims of his alleged sex crimes as well as the journalists who collected information about him.
Two of Black Cube's members were arrested in Romania on suspicion of carrying out illegal wire-tapping on a senior law enforcement official. The company is also facing allegations of impersonation in an attempt to influence a judge in Canada, and its members are accused of gathering information about former senior officials in the Obama administration, an operation of which the details and the identity of the client are not entirely yet clear.
A source involved in Halevy's recruitment said he will assist with operational and intelligence aspects of Black Cube's operations relating to its global goals. In addition, he will head the Onboarding Client Committee, which screens clients.
Retroactively, the company regretted accepting Weinstein as a client, the source said. The company categorizes its clients according to a three-color system: green for non-problematic clients; red for clients who they refuse to work with; and yellow for questionable clients.
Those clients categorized as questionable are to be reviewed by the committee that will now be headed by Halevy. The committee will decide whether Black Cube accepts or reject those clients.
Black Cube refused to comment on the details of Halevy's hiring. Halevy confirmed in a phone call from London that he is joining Black Cube as a consultant, but said that "this is not a senior position."