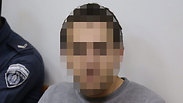 The defendant
Photo: Motti Kimchi
An Israeli-American youth who was convicted of making thousands of false bomb threats to companies and institutions around the world—including to Jewish communities in the United States, Australia, Ireland and England—was sentenced Thursday to ten years in prison and was ordered to pay a NIS 60,000 fine.
After the verdict was read, the defendant's father cried out that his 19-year-old son "is sick."
Judge Zvi Gurfinkel took into account the fact the young man, a resident of the southern city of Ashkelon, suffers from autism and therefore gave him a more lenient sentence. "If it wasn't for his medical condition, I would have sentenced him to 17 years in prison," the judge said.
Five months ago, the Tel Aviv Magistrate's Court convicted the 19-year-old blackmailer of computer related offenses, extortion, and making false statements that caused panic and disruption.
Attorney Yoni Hadad of the State Attorney's Office's Cyber Department said the defendant "acknowledged the damage he caused to people around the world. He wanted to terrorize the public."
"We intend to appeal the conviction, which is unprecedented," said Yoram Sheftel, the young man's attorney. "As the sages say—he who is compassionate to the cruel will ultimately become cruel to the compassionate. A court system that takes pity on Hezbollah terrorists is not surprisingly cruel to a mentally challenged youth with a 100 percent disability rating."
From 2015 until his arrest, the defendant called thousands of different institutions, malls, embassies and airlines and made false bomb threats, leading to mass evacuations. In 48 cases, the suspect called police stations and threatened to hold small children and family members hostage, in some cases, police forces were rushed to the scene.
The defendant also contacted another individual and conspired to blackmail Delaware Senator Ernesto B. Lopez. His accomplice called Lopez and demanded money while threatening to murder his daughter. In addition, the defendant made several threatening phone calls to George Little, a former Pentagon spokesman.
Recordings of threats made
"He claimed terror attacks were about to take place while using sophisticated internet tools to hide his identity. He paid for these calls with Bitcoin, and used a voice changer to conceal his real voice. His goal was to cause public panic and media hype that would intensify the damage he caused. He offered services for a fee and posted them on Darknet forums. The defendant charged $40 for a threatening call to a private home, and $500 for making a bomb threat," Judge Gurfinkel said.
"To this day he is hiding his virtual wallet, and the money is still under his control," the judge added.
The judge also mentioned that the defendant had offered dangerous drugs for sale, and uploaded videos explaining how to make threatening videos. "He received NIS 800,000 worth of Bitcoin and even hired assistants," Gurfinkel added.
The defendant kept making threatening phone calls and bomb threats to various institutions and schools while in detention.
"I did it because I was bored," he told police. He also said he enjoys "seeing people running around in panic."
In October, the cyber department of Israel's State Attorney's Office submitted to the court another indictment against the defendant, this time for attempting to escape custody.
On his way back to a detention center the defendant apparently succeeded in opening one of his leg shackles with an improvised lock-pick and tried to escape. However, Israel Prison Service (IPS) officers immediately gave chase and managed to tackle and drag him back to the detention center.
The case was uncovered last year after a joint investigation by Israeli, American, and other international law enforcement agencies.
The young man also faced charges in the United States, but the US Justice Department eventually decided not to seek his extradition and instead allow him face trial in Israel.