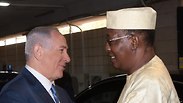 Netanyahu with President Idriss Déby
Photo: GPO
Netanyahu to visit Chad 'soon' to declare renewal of diplomatic ties
Following Chadian President Déby's historic visit to Israel, Prime Minister's Office says Netanyahu is expected to travel to the central African nation in the near future to officially announce the establishment of diplomatic relations between the two states.
Prime Minister Benjamin Netanyahu will travel to Chad "soon" where he is expected to officially announce the renewal of diplomatic ties between Israel and the central African nation, the Prime Minister's Office said Tuesday. So far, no date has been set for Netanyahu's trip.

Netanyahu held a meeting with the Chadian President Idriss Déby at the Prime Minister's Office in Jerusalem on Tuesday, where they discussed increasing bilateral cooperation in agriculture, counter-terrorism, border defense, technology, solar energy, water and health, among other fields.

The meeting Tuesday morning between the two leaders was their third after a work meeting and a dinner at the Prime Minister's Residence on Monday.

On Monday, Déby said that the purpose of his visit to Israel was to renew relations between the two countries, after the central African nation severed them back in 1972.

"I announced yesterday that we will renew diplomatic relations between Chad and Israel, and this will happen, God willing, in the coming days or weeks," he said in an interview with i24NEWS.

Press conference with Chad president (צילום: אלכס גמבורג)

Chadian president said his decision not to meet with Palestinian representatives during the current visit stems from the fact that diplomatic relations between his country and the Palestinian Authority are already stable.

"We came here this time with a plan because we have not had diplomatic relations with Israel since 1972 and the aim was to renew these relations. We have no problem with Abbas or the Palestinians, they are our friends who participated in all the African Union committees, but we have not held talks with Israel since 1972, and I came here for that," Déby stressed.

One of the issues that was discussed with Deby during his visit, is Israel's desire to have direct flights from South America to Israel over Central Africa—which entails flying over Niger, Chad and Sudan. President Deby reportedly agreed in principle to allow flights over his country.

Déby also made it clear that Israel is very close to a breakthrough when it comes to relations with Sudan—which is defined by law as an enemy state but has undergone positive change in recent years and is developing close ties with the United States. Deby has promised to help Israel's efforts in renewing diplomatic relations with the Sudanese.

"The world is changing before our eyes. Crises and wars we knew are changing as well. We don't wish them on today's generation or future generations. There's a time for war and a time for peace. Our message is global to all leaders—Chad doesn't presume to speak for black Africa. Chad comes to renew bilateral diplomatic relations, but if Chad can be a facilitator, Chad will not hesitate."

Similarly to many other African leaders, Deby, too, began his political career as a military man. He enlisted in the early 1970s, when his country was in the midst of a civil war, and turned out to be an outstanding officer.

He became a prominent figure in Chad in the 1980s, when he commanded the rebel forces under the leadership of Hissène Habré, who later became president. Later on, the relationship between the two deteriorated and Déby fled to neighboring Sudan, where he recruited an army of followers who carried out attacks against Habré's forces. In 1990, Déby returned to Chad and seized power in a military coup.