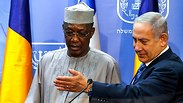 Chadian President Idriss Deby and Prime Minister Netanyahu
Photo: AFP
First Chadian president to visit Israel labeled 'brutal tyrant'
While Prime Minister Netanyahu and President Rivlin praised the renewal of diplomatic ties between the two states, President Idriss Deby's opponents say his government brutally suppresses opposition and violates human rights, calling his visit to Israel an attempt to strengthen his 30-year-old tyrannical rule.
Chadian President Idriss Deby, arrived Sunday for a historic visit as part of an attempt to renew diplomatic relations between Israel and the Muslim central African nation. Debby is considered by many to be a brutal dictator who detains political opponents and violates human and civil rights in his native land.

"He might not be one of the most brutal tyrants in Africa, but he is definitely a tyrant," says Dr. Irit Beck, head of the African Studies program at Tel Aviv University. "He rules his country by constantly violating human rights and liberties."

Since he came to power in a 1990 military coup, he has managed to maintain political stability in Chad—which has not been involved in any wars with its neighbors since Deby became president—nor has it been entangled in a civil war. However, according to Dr. Beck, Deby's rule did not contribute to the development of Chad or to the welfare of its citizens.

"Although Chad has natural resources, such as oil, Deby's nearest circle of trustees divide the profits between themselves … The literacy rate in the country remains low, unlike many other African states that have developed in this regard over the recent years," Dr. Beck explained.

As a result, Deby has been facing increasing criticism from his political opponents—who make themselves heard despite the president's attempts to suppress them—due to the growing frustration among the general population.

"It is possible that this is why he is trying to reach out and develop new ties with foreign countries—in order to strengthen his rule," she emphasized.

Similarly to many other African leaders, Deby, too, began his political career as a military man. He enlisted in the early 1970s, when his country was in the midst of a civil war, and turned out to be an outstanding officer. A few years later he was sent to undergo training at the most prestigious military school in France, the École Militaire, where Deby also received a pilot's license.

He became a prominent figure in Chad in the 1980s, when he commanded the rebel forces under the leadership of Hissène Habré, who later became president. Later on, the relationship between the two deteriorated due to Habré's suspicions that his former comrade is conspiring to topple his rule.

In order to avoid being detained by Habré's forces, Deby fled to neighboring Sudan—where he recruited an army of followers who carried out attacks against the president. In 1990, Deby returned to Chad and seized political power in the country.

Chad is the 22nd largest country in the world in terms of territory, but its population is relatively sparse and is estimated to stand around 15.8 million. Chad is not a country with a clear Muslim majority, with only 52.1% of its residents belonging to the religion. Another 44% in the country identify as Catholic and Protestant.

Chad is a member of the Organization of Islamic Cooperation. The two official languages ​​in the country are French and Arabic, while another 120 additional languages ​​and dialects are also in frequent use.

Although the country holds presidential elections every five years, Chad is classified as a "non-free" state by the independent watchdog organization that conducts research on democracy, called Freedom House.

Amnesty International says government in Chad regularly commits human and civil rights violations, suppresses demonstrations and conducts arrests of human rights and opposition activists.

"Chad is violating the freedom of association and imposes restrictions on civilian organizations," stated Amnesty's official report.

The civilian population in the country is also under a constant threat posed by the extremist Islamic terrorist organization Boko Haram, that commits murders, abductions and other acts of violence against those living near ake Chad, which is also shared by Cameroon, Niger and Nigeria.

The international human rights group's protests and criticism leveled at the authorities in Chad also boasts some achievements. Last April, a court in the country's capital Najma ordered the state to release a citizen who had been jailed for six months after posting Facebook videos criticizing the government inefficiency when it comes to distributing the public resources.

He was accused of undermining the constitutional order and threatening territorial integrity, and had he been convicted, he could have received life imprisonment.

The United Nations also praised Chad for taking care of some 450,000 refugees living in its territory. The United Nations Educational, Scientific and Cultural Organization (UNESCO) said Chad was the first country in Africa to develop an education program for refugees in order to integrate them into society. In addition, as part of the program, the government integrated 108 of the refugee camps' schools into the country's education system.

Why did the president of Chad decide to visit Israel after severing the relations back in 1972? Dr. Jonathan Freeman, a researcher and lecturer in the Department of Political Science at the Hebrew University of Jerusalem, explained which interests the two countries might have in common.

"Chad is a country that faces many challenges that Israel is also grappling with. Firstly, Chad is fighting against many radical Islamic organizations operating in its territory, such as Islamic State and Boko Haram, and they need professional knowledge and technology in order to combat the phenomenon," stressed Freeman.

"The country also endures similar climate phenomena and natural disasters, such as desertification and drought, and might require Israeli-made technology in order to deal with the problem.

"Developing a connection with Chad in particular, and with Africa in general, is important to Israel. We need this continent not only as a client for export of our technologies, but also as a diplomatic partner," Freeman asserts, adding that 50 countries of the continent represent 50 potential votes in the United Nations.

According to the researcher, warming relations with the countries on the continent could also help Israel's aspirations to become an observer in the African Union.

One of the issues that was discussed with Deby during his visit, is Israel's desire to have direct flights from South America to Israel over Central Africa—which entails flying over Niger, Chad and Sudan. President Deby reportedly agreed in principle to allow flights over his country.

Deby also made it clear that Israel is very close to a breakthrough when it comes to relations with Sudan—which is defined by law as an enemy state but has undergone positive change in recent years and is developing close ties with the United States. Deby has promised to help Israel's efforts in this sphere.

In a joint statement with Prime Minister Benjamin Netanyahu, Deby welcomed the renewal of relations between the two countries, but emphasized the Palestinian issue is still on the top of the agenda as far as his country is concerned.

"We believe that peace (between Israel and the Palestinians-ed.) should reflect the principles of the Security Council, the Arab League, the Madrid Principles, and bilateral agreements between the parties," Deby added.

During a joint press conference on Sunday, both leaders refused to answer any questions regarding possible arms deals, with the prime minister bluntly stating, "We discussed what we discussed."

President Rivlin meets with President Deby (צילום": לע"מ)

The Chadian president also met with President Reuven Rivlin, who emphasized the central African country's importance.

"Chad is an important country, a country that fights terror, and Israel is at your side in this just war ... Our relations will be renewed and I hope that I will soon receive the charter of the Ambassador of Chad in Israel. "

"We see great importance in developing relations with Africa, the cradle of civilization. For us, Africa is the future, Chad is the future, and Israel wants to share its experience with you," Rivlin said.