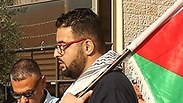 Raja Za'atra
Photo: Elad Gershgoren
A newly appointed deputy mayor for the city of Haifa stepped down Wednesday, following a row over statements of support for terror groups Hezbollah and Hamas.
Haifa's newly elected mayor Einat Kalisch-Rotem had been expected to cancel the controversial appointment after it emerged that Raja Zaatry publicly claimed that Hezbollah and Hamas were legitimate organizations.
Kalisch-Rotem's decision to end the appointment came following a request from Prime Minister Benjamin Netanyahu, who called the new mayor while she was on holiday in Switzerland.
At a press conference Wednesday, Zaatry made it clear that he will not apologize for his controversial statements and announced he is stepping down from the deputy mayor position, which will be filled by Hadash party member Shahira Shalabi.
"Einat Kalisch-Rotem bravely stood up against mafia threats. Threatening to halt government funds for Haifa is how a mafia operates. I am proud of the path I have chosen for myself. We didn't get to Haifa municipality through tunnels or Hamas rockets; we got here thanks to 6715 votes," he said, while calling Netanyahu a "pyromaniac."
Kalisch-Rotem met with Za'atry on Monday upon her return to Israel. While her office declined to provide further details on the meeting between the two, it appears that the mayor asked Zaatry to explain controversial statements of support for the two terror organizations.
The new mayor, who is the first woman to lead one of Israel's three major cities, is a member of the Zionist Union, and a political rival of Netanyahu and his Likud Party. Zaatry is a member of Hadash, one of the three parties that make up the Joint List bloc of predominantly Arab lawmakers.
Oppposition to Zaatry came from across the political spectrum. According to Haaretz, Interior Minister Aryeh Deri of the ultra-Orthodox Shas party sought legal advice on blocking the appointment, while Yair Lapid, who leads the secular, centrist Yesh Atid Party, urged the new mayor to break her party's coalition agreement with Zaatry. Lapid said the agreement, which would make Zaatry deputy mayor in the second half of Kalisch-Rotem's term, aligns the Haifa local government with "the worst of Israel's haters."
Sources at Haifa municipality said Tuesday that Kalisch-Rotem's office was looking for a way to backtrack on a promise to Zaatry, while trying to minimize the fallout from canceling his appointment. Haifa is a mixed city, with its Arab and Jewish populations living in relative harmony. According to Haaretz, Zaatry's appointment was widely opposed by the residents of the city.
Netanyahu branded the appointment "unacceptable" during Sunday's weekly Cabinet meeting.
"This morning before the meeting, I asked Haifa Mayor Einat Kalisch-Rotem to cancel the appointment of a deputy mayor who supports Hezbollah and Hamas, both of which have declared their intention to destroy the State of Israel," the prime minister said.
An official from Haifa local authority on Tuesday called on Kalisch-Rotem to act promptly to resolve the issue.
"She can claim she wasn't aware of his statements," the Haifa municipality official said. "Since taking office, the mayor has been pushing for the establishment of an international airport and for the nullification of plans for Haifa Bay. She can do two things at once — end this political crisis and simultaneously advance the city's affairs."