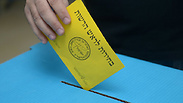 File photo
Photo: Avi Rokach
Incumbent Tel Aviv Mayor Ron Huldai was reelected for a fifth term in Israel's 2018 municipal elections, while Jerusalem will have a runoff between secular candidates Ofer Berkovitch and Moshe Leon, and Haifa's mayor of 15 years Yona Yahav lost to his female rival Einat Kalisch Rotem, results revealed early Wednesday.

Jerusalem saw a race between four leading candidates: Moshe Leon, who received the support of Ministers Avigdor Lieberman and Aryeh Deri, got 33 percent of the vote; Ofer Berkovitch, the head of the secular faction "Hitorerut," got 29%; Jerusalem Affairs Minister Ze'ev Elkin, who received the support of Prime Minister Benjamin Netanyahu, got 19%; and ultra-Orthodox candidate Yossi Daitch got 17% of the vote.

Since no candidate received more than 40% of the vote, Leon and Berkovitch will face each other in a second round that will take place on November 13.

Daitch, who admitted that "the results are not great," complained that "if Haredi Judaism was united today, no one else would've stood a chance."

In Tel Aviv, incumbent mayor Ron Huldai got 46% of the votes, defeating his deputy Asaf Zamir (34%) and TV personality Assaf Harel (13%).

Haifa's three-term mayor Yona Yahav, meanwhile, lost with only 38% to architect Einat Kalisch Rotem, who got 55% of the vote and became the first female mayor of a major city in Israel.

"It has been my great honor to lead this beautiful city," Yahav said in his concession speech. "Haifa has been my life's work, and I pray the new city leadership will know how to preserve what has been achieved here over the past 15 years."

Like the capital, many other large cities will have to go to a runoff. Rishon Lezion Mayor Dov Tzur, who is suspected of corruption, got 31.8% of the vote, while his rival Raz Kinstlich got 21.7%. Kinstlich called on Tzur, who was arrested last year, to quit the race. Another mayor who will be heading to a runoff is Yisrael Zinger from Ramat Gan (27.4%), who is facing off against former MK and former Israeli ambassador to UNESCO and the OECD Carmel Shama-Hacohen (28.1%). Bat Yam will also see a second round. Yosi Bachar, who has Netanyahu's backing, got 35% of the vote, ahead of Likud Party candidate Tzvika Brot, who got 30%. Israel's southernmost city of Eilat will also see another round between veteran mayor Meir Yitzhak Halevi and Dubi Cohen. Avi Gruber (36%) and Roni Belkin (31%) will run in a second round in Ramat HaSharon.

Some races were too close to call, and will wait for the soldiers' votes: in Ashkelon, Tomer Glam is leading with 40.31% over Itamar Shimoni (39.84%), who is suspected of receiving bribes; in Hadera, incumbent Mayor Zvi Gendelman got 40.7% and might have a runoff with Gad Arieli and Yaniv Deri, who got 20% each; in Beit Shemesh, incumbent Moshe Abutbul (53%) is leading by only 251 votes over Aliza Bloch (46%).

In Ra'anana, Chaim Broyde got 32%, ahead of incumbent Eitan Ginzburg, the first openly gay mayor in Israel, who got 28%. The two will nevertheless go to a runoff in two weeks. Another city going to a second round is Kfar Saba, where Rafi Sa'ar (28%) will run against former police deputy commissioner Yossi Sedbon (18%). The race in the nearby Hod HaSharon has not yet been decided either, with Amir Kochavi (27%) running against former MK Yifat Kariv (18%) in the second round. In Ma'alot-Tarshiha, incumbent Shlomo Bohbot, the longest-serving mayor in Israel with 42 years in office, got 30%, while rival Arkady Pomerantz got 33%. The two will face off in the second round. Rosh HaAyin will also see another run, after incumbent Shalom Ben Moshe only got 30% of the vote, while his rival Raz Sagi got 21.6%. In Petah Tikva, Rami Greenberg unseated incumbent Itzik Braverman. Rabbi Avraham Rubinstein won 82% of the vote in Bnei Brak.

Be'er Sheva, a major city in southern Israel dubbed "the capital of the Negev," will see its incumbent Mayor Ruvik Danilovich return for another term after getting just shy of 92% of the vote. His party "Derech Hadasha" also increased its strength in the city council, getting 16 of the 27 seats.

Another big victory, albeit more moderate, was won by Netivot Mayor Yehiel Zohar, who got 63% of the vote, while his rival Moshe Peretz only got 37%. Ashdod saw a much closer race: Yehiel Lasri won with 41%, only just making it past the threshold for a first round victory.

Dimona Mayor Benny Biton and Ofakim Mayor Itzik Danino will also keep their seats.

Northern Israel saw quite a few upsets. Nahariya Mayor Jackie Sabag, who has been in office for almost 30 years, only got 23% of the votes. After the votes were counted, he was filmed saying bitterly: "After 30 years, I reached the conclusion most Nahariya residents are ungrateful." He lost to Col. (res.) Ronen Marley, who got 62%. In Beit She'an, Jackie Levy (63%) defeated Rafi Ben-Sheetrit (36%), after losing to him five years ago by only 97 votes.

In Nesher, incumbent Mayor Avi Binamo (8%) suffered a crushing loss to Roei Levi (63%); in Afula, former mayor Avi Alkabetz (48%) defeated incumbent Yitzhak Miron (45%); in Tiberias, Ron Kobi was elected mayor with 45% of the votes, while incumbent Yossi Ben-David only got 22%; and in Safed, Mayor Ilan Shohat lost the elections, getting only 21.1% of the votes, while Shuki Ohana (36%) and Nachman Gelbach (26.8%) will face off in the second round. In Karmiel, Moshe Konivsky will likely inherit Adi Eldar's seat, after getting 42% compared to rival Rotem Yanai (24%).

Many mayors were reelected: Netanya Mayor Miriam Feirberg Ikar, who is suspected of bribery, got 48.2% of the vote, defeating former MK Yoni Chetboun (26.7%). Herzliya Mayor Moshe Fadlon got a similar percent of the votes. Kiryat Motzkin Mayor Haim Tzuri won with 60% of the votes; in Ramla, Mayor Michael Vidal won with 61%, while Holon Mayor Moti Sasson was reelected with 41.3%. In Arad, Mayor Nisan Ben-Hamo won after a close fight against his Likud rival Moshe Edri, with the latter reaching an agreement to receive the support of the Haredim, which led to high voting rates among seculars. Veteran Yavne Mayor Tzvi Gov Ari won with 58.34% of the vote, while former minister Meir Sheetrit only got 20.35%.

Modi'in-Maccabim-Re'ut Mayor Haim Bibas ran unopposed, getting 90.6% of the votes, while 9.4% of voters chose to vote against him with a blank green ballot. Or Yehuda Mayor Liat Shohat will keep her seat after receiving 51% of the votes, while rival Uzi Aharon got 40%. Kiryat Ono Mayor Israel Gal reclaimed his seat with 55% of the vote. Lizy Delaricha will remain the head of the Ganei Tikva local council after getting 64% of the vote. Shmuel Boxer won in Nes Ziona, despite the fact photos of him hunting in an African safari cast a shadow over his campaign. In Yeruham, Tal Ohana defeated Nili Aharon, despite the latter enjoying the prime minister's backing. Ohana will be Yeruham's first female mayor.

In the West Bank, Deputy Mateh Binyamin Regional Council head Yisrael Gantz won 52% of the vote, defeating Shilo Adler with 47%. At the Samaria Regional Council, Yossi Dagan won 81% of the votes and will continue for another term. An upset in Kiryat Arba: Eliyahu Liebman won the race with 53%, ousting Malachi Levinger (39%). Oded Revivi won again in Efrat. Yochai Damari will keep his seat for a second term in Har Hebron after receiving 66% of the votes, after Shosh Adar only got 34%. Shlomo Ne'eman and Moshe Svil will face off in a second round in Gush Etzion.