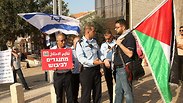 Raja Za'atara
Photo: Elad Gershgoren
Haifa mayor refuses Netanyahu's request to dismiss deputy
Einat Kalisch-Rotem reportedly says to PM Netanyahu she won't rescind her decision to appoint Raja Za'atara, who once compared Zionism to ISIS, as the city's deputy mayor; meanwhile, her vacation photo sparks outrage among the city's residents.
Haifa Mayor Einat Kalisch-Rotem has refused Prime Minister Benjamin Netanyahu's request to cancel the controversial appointment of Raja Za'atara (Hadash)—who has expressed anti-Israeli views in the past—as the city's deputy mayor.

Prime Minister Netanyahu called the appointment "unacceptable" during Sunday's Cabinet meeting.

"This morning before the meeting, I asked Haifa Mayor Einat Kalisch-Rotem to cancel the appointment of a deputy mayor who supports Hezbollah and Hamas, both of which have declared their intention to destroy the State of Israel," stated the prime minister.

Kalisch-Rotem reportedly explained to the prime minister that she would not withdraw from the coalition agreement she had signed by cancelling Za'atara's appointment.

Netanyahu noted that the mayor is currently on vacation abroad and that he intends to continue discussing the matter with her once she returns. "I hope that she will respond," he added.

The Hadash party chairman, an Israeli-Arab, was selected deputy mayor after he joined the municipal coalition.

Although Za'atara is expected to take on the role of Haifa deputy mayor only in two and a half years for half a term, as part of rotation agreement with Meretz faction chairman Rabbi Dubi Haiyun, the decision to appoint him has sparked outcry among Haifa's residents.

Speaking on the panel at Bar-Ilan University three years ago, Za'atara sparked public ire by comparing the Islamic State (ISIS) to the Zionist movement.

"Where did they learn to commit these crimes? Look up what the Zionist movement did in 1948—Rape, looting, murder and massacres were committed here," he stressed.

When asked whether Hamas is a terror organization, Joint List council member replied, "No. An occupied nation has the right to resist the occupation."

In the recent demonstration three months ago, Za'atara told Yedioth Ahronoth that he is protesting "against the siege imposed on Gaza, the killings of unarmed Palestinian protesters, and the oppression and intimidation policy."

On Sunday, Kalisch-Rotem posted a photo from her vacation in Switzerland on her Instagram account with the caption:"A perfect day, sometimes that also happens."

The post drew an angry response from Haifa's residents. "Unbelievable, you sit there with a glass of beer as Haifa goes up in flames!" one resident lashed out.

Meanwhile, Za'atara issued a statement on Sunday, insisting he does not support either Hamas or Hezbollah.

"I am a member of the Israeli Communist Party and the Hadash movement, which advocate peace, equality and the brotherhood of nations. The real danger to the people of Israel isn't posed by the municipality of Haifa, but rather by the (residents of) Balfour Street in Jerusalem," he stated.

"When I'll be deputy, Netanyahu and Deri will probably already be in prison," Za'atara added in reference to the prime minister and the interior minister's legal woes.