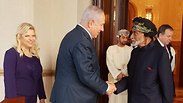 Netanyahu with Omani ruler
Recently, official Israeli delegations visited three emirates in the Persian Gulf: Prime Minister Benjamin Netanyahu and Mossad Director Yossi Cohen visited Oman, Culture Minister Miri Regev and a delegation of athletes visited Abu Dhabi, as did a delegation of academics and former military officials, and another small delegation of athletes visited Qatar. Each country and its own agenda. After Netanyahu's meeting with the ruler of Oman, Bahrain announced it will invite Netanyahu for an official visit.

Here are the differences: Oman has a long tradition of mediation, "sabla," bridging between warring parties inside a country, two neighboring countries, or several foreign nations. This unique method of mediation is meant to bring the sides to the negotiations table, and then Oman leaves the picture and makes room for a more senior mediator.

The ruler of Oman now wants to bring the Israelis and the Palestinians to the negotiations table and bring in his American allies. And he has, it turns out, long-term plans as well, for Iran. This is what he sought to make clear to Netanyahu: First the Palestinians, take a break, and only then Tehran—without pressure, deadlines or timetables. When Washington decides it's time, they should know the Omani foreign minister is ready to pave the way.

Abu Dhabi is an interesting emirate. Like Dubai, it is mostly has luxury living, a lot more foreigners than locals, and a ruler (who didn't bother showing up for the Israeli delegation), Khalifa bin Zayed, who is aided quite a bit by Mohammed Dahlan, who lives in his country. If bin Zayed needs counsel on the Israeli issue, he knows who to call.

Matters in Qatar are far more complicated. Four Arab nations—Saudi Arabia, Egypt, Bahrain and the United Arab Emirates—are waging an all-out war against Qatar. There were times when the Saudi Crown Prince, Mohammad Bin Salman, who closed his borders, threatened not only to cut Qatar off but to turn her into a floating island. But Qatar is home to the largest American base in the Arab world, which overlooks Iran, and President Trump and co. won't let the Saudi crown prince go crazy.

Qatar has a special ambassador to Gaza, Mohammed al-Emadi, who comes and goes into Israel as well, and has been able to establish quite good ties with us. His official job: transfer money (not a problem for Qatar) to Gaza. And money, as always, buys influence and a special status.

I was recently in Qatar. It's hard to describe the wealth, the luxury, the boom in construction and the incredible preparations for the World Cup, which is set to take place in three years. For the first time in the Arab world, the tournament will be held in this small and wealthy emirate, which dreams of becoming an "empire of sports." The Qataris are building hotels, restaurants and clubs at a dizzying pace, and promising that alcohol will indeed be flowing—indoors.

But Qatar also seeks a political role in the region. On the one hand, there was a thick hint from the Saudi crown prince that he is willing to end the boycott of Qatar, without committing to when. On the other hand, Egypt is pushing to remove Qatar from the dialogue with the Palestinians. My bet: Ambassador al-Emadi will stay in the area to continue sniffing around for opportunity and plant both feet firmly between Tel Aviv and Gaza.

There are Israeli agents in all Gulf emirates, alongside high-tech professionals and businessmen. You talk to an Omani, a Qatari or a Bahraini and a new world opens up; no pressure, no tensions. They're not going to sign peace agreements with Israel, but they now see Israelis through entirely different eyes.

We need to continue the series of visits to Gulf emirates. It would be useful for Israel both in Egypt and Jordan, and open new avenues. Each of the emirates has ties to a large Arab country, and Israel could make use of that bridge. It's very important to also listen to the younger generation in the emirates: a new generation of business owners, factory managers and young academics who are not averse to us—on the condition, of course, that they receive the green light from the ruler's palace.