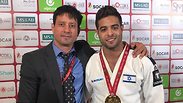 Sagi Muki and Oren Smadja
Photo: Israel Judo Association
For the first time in history, the Israeli anthem was played during the medal awarding ceremony in Abu Dhabi when the Israeli lightweight judoka Sagi Muki won a gold medal at the Grand Slam judo tournaments on Sunday, after beating Belgium's Casse Matthias.

Muki won with an ippon, after he nearly lost with two penalties.

Israeli Anthem played for the first time in the Abu Dhabi Grand Slam. (באדיבות ערוץ הספורט)

Minister of Culture and Sport Miri Regev, who accompanied the team during the competition, wept while she sang the anthem on stage.

Muki started the tournament aggressively, and was the first one to get a referee warning.

A minute and 11 seconds to the end of the tournament, Muki made his first significant offence, but received no points since Casse managed to land on his abdomen.

After Case had received a first penalty, Muki received his second one, and was a step away from losing the competition.

Nine seconds after the fight went into Golden Score, Muki won with a powerful throw, which earned him the Waza-ari.

Muki, who is the 2018 lightweight European champion, met Casse, who won the Junior World Champion in 2017. Muki also beat Frank de Wit, the 2015 world and European champion who won the Paris Grand Slam last year, with his fourth ippon of the day.

Three other Israelis won bronze medals yesterday: Gili Cohen, Baruch Shamilov and Timna Nelson Levy.

Muki nearly met the Iranian world champion Saeid Mollaei, who had beat his Canadian rival at the quarter finals, but was injured and quit before the finals.

In previous years, the Abu Dhabi Grand Slam prevented the Israeli team from competing with state symbols. When the Israeli Judoka Tal Flicker won gold in the 2017 Grand Slam, the Israeli anthem was not played, but rather the World Judo Federation anthem.

This year an agreement was reached and the Israeli team did compete with its national symbols and had ISR printed on the shirts of its members. However, the competition organizers avoided raising the flags of the participating countries, nor they were raised during the medal awarding ceremony.