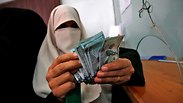 Palestinian civil servants receive salaries
Photo: AFP
The second installment of $15 million in Qatar funds is expected to be delivered to 30,000 Hamas officials in the Gaza Strip this week. Post office branches across the strip are preparing to distribute the money on Tuesday, according to credible sources.

The money is supposed to enter the strip through the Erez border crossing, with Israel's approval. Qatari officials headed by the Qatari Ambassador to Gaza Mohammed Al-Emadi in Gaza will supervise the money distribution.

Alongside Gaza's civil servants, the Qatari funding will also go to families of Palestinians killed or wounded during clashes with the IDF on the Gaza border since March.

Last month, amid Egyptian mediation aimed at reaching a long-term agreement between Israel and Hamas, three large leather suitcases containing $15 million in cash entered the coastal enclave, after arriving in a Qatari executive jet. It seems the cash infusion will take a similar route this time as well.

This time, however, both Israel and Hamas have decided to keep the money transfer low key in the wake of the public criticism that was sparked by the first transfer. An Israeli official went as far as saying that photographing the money suitcases would not be allowed.

The salaries paid to Hamas public servants and the public outcry that followed in Israel was one of the reasons given by former defense minister Avigdor Lieberman for his resignation. While National Security Advisor Meir Ben Shabat insisted Israel is supervising the money transfer to ensure it reaches the right recipients, Lieberman claimed the funds would get to terror elements in the strip.

And indeed, the first money transfer was plagued by irregularities, making it impossible for Israel to guarantee that the money reached the right recipients. Furthermore, on the same day as the Qatari money transfer, Hamas's military leadership also received salaries, making it unclear which funds were transferred and to whom.

Moreover, the criteria for families eligible for Qatari funds after their relative was killed or hurt during clashes with the IDF are not clear enough, with Qatar also handing out money to "unemployment academics" whose identity is unknown.

Following the first installment of Qatari money funds delivery, Hamas fired some 500 rockets at Israel. This weekend, Hamas intends to "celebrate" the anniversary of the first intifada that broke out on December 9, 1987. Hamas dubbed the planned weekend protests along the Gaza border as "The big Intifada of stones."

Israel is examining whether the terror organization is seeking to fan the flames on the border to divert the focus from the fact that some of its demands, such as expanding the Gaza's fishing zone, have not been met.