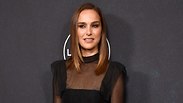 Hollywood actress Natalie Portman
Photo: Getty Images
Israeli-American actress Natalie Portman again lashed at Israeli policies in an interview published in a Palestinian-owned newspaper Thursday, calling the controversial Nation-State Law "racist" and a "mistake."
Portman, born Neta-Lee Hershlag in Jerusalem, also told the London-based Al- Quds Al-Arabi that law "oppressed Palestinians." The interview itself, however, seems to omit any claims by Portman of such oppression.
The Nation-State Law, which was passed by the Knesset in Julydespite fierce criticism, defines Israel as "the national home of the Jewish people." It also drops Arabic as an official language, giving it instead a "special status."
Prime Minister Benjamin Netanyahu hailed the law as the realization of the Zionist vision, but it has stoked anger among critics who, like Portman, argue that it is racist.
Portman said she "doesn't agree" with the principle of the contentious law.
"It's a mistake … I only hope that we will really love our neighbors and work together," she said.
The 37-year-old also expressed her dissatisfaction with the election of Donald Trump as United States president.
"It really angered me, but I'm working on channeling this energy to protest the injustices I see … in order to make our society a better place," she said.
Last April, the Oscar-winning actress refused to attend a ceremony in Israel to accept the Genesis Prize for her contribution to the Jewish community after several Palestinians were killed in violent clashes with the IDF on the Gaza border during ongoing protests.
According to the Genesis Prize Foundation, a representative of Portman said that "distressing" events in Israel caused the actress to back out, as she would "not feel comfortable participating in any public events in Israel."
Portman herself later said that her refusal to accept the $2 million prize stemmed from not wanting to be seen as supporting Prime Minister Benjamin Netanyahu, who was scheduled to speak at the event.
Some ministers in Netanyahu's right-wing government suggested Portman appeared to have been manipulated by the Palestinian-led international campaign to boycott Israel.
"Let me speak for myself," Portman wrote in a statement posted on her Instagram account. "I chose not to attend because I did not want to appear as endorsing Benjamin Netanyahu."
Portman added she did not support the Boycott, Divestment and Sanctions (BDS) movement, which aims to isolate Israel over its treatment of Palestinians.
"Like many Israelis and Jews around the world, I can be critical of the leadership in Israel without wanting to boycott the entire nation," she stressed.
"Israel was created exactly 70 years ago as a haven for refugees from the Holocaust," she continued. "But the mistreatment of those suffering from today's atrocities is simply not in line with my Jewish values. Because I care about Israel, I must stand up against violence, corruption, inequality, and abuse of power."