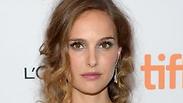 Natalie Portman
Photo: Getty Images
Hollywood actress Natalie Portman has refused to attend a ceremony in Israel to accept a $2 million prize because of "recent events" in the country, the organizers said, announcing the prize-giving had been cancelled.

Israel has drawn international criticism in recent weeks for tactics used during clashes with Palestinians along the border with Gaza. Thirty-one Palestinians have been killed and hundreds more wounded from Israeli gunfire, which the IDF has said was only emplyed against riot ringleaders and people attempting to breach, or place explosives on, the border.

In a statement on its website, the foundation that awards the Genesis Prize quoted a representative for Portman as saying: "Recent events in Israel have been extremely distressing to her and she does not feel comfortable participating in any public events in Israel."

It gave no further details of her reasons. An email to Portman's publicist in Los Angeles seeking further information was not immediately answered.

After announcing last November that Portman will be receiving the prize, the foundation announced a month later that the cash award was being doubled due to a contribution from Israeli philanthropist Morris Kahn.

Portman announced her intention to donate the money to organizations dedicated to promoting equal rights for women in education, the economy, health and politics.

The foundation said it "admires her humanity, and respects her right to publicly disagree with the policies of the government of Israel."

"However, we are very saddened that she has decided not to attend the Genesis Prize Ceremony in Jerusalem for political reasons. We fear that Ms. Portman's decision will cause our philanthropic initiative to be politicized and could thrust us into the political discourse which we absolutely did not want to be a part of."

Culture and Sports Minister Miri Regev slammed Portman's decision. "I regret to hear that Natalie Portman has fallen as a ripe fruit into the hands of BDS supporters. Natalie, a Jewish actress who was born in Israel, joins those who who relate to the story of the success and wonder of the rebirth of Israel as 'a tale about darkness and darkness,'" Regev said, referring to a move Portman directed and starred in titled "A Tale of Love and Darkness."

Natalie Portman speaking about Israel

Public Security Minister Gilad Erdan said he sent a letter to Portman expressing his disappointment. "Sadly, it seems that you have been influenced by the campaign of media misinformation and lies regarding Gaza orchestrated by the Hamas terrorist group," he wrote.

He invited her to visit and see for herself the situation on the ground.

Likud MK Oren Hazan called on the government to revoke Portman's Israeli citizenship.

Rachel Azaria, a lawmaker from the Kulanu party, warned that Portman's decision to stay away is a sign of eroding support for Israel among young American Jews.

"The cancellation by Natalie Portman needs to light warning signs," Azaria said in a statement. "She is totally one of us. She identifies with her Jewishness and Israeli-ness. She is expressing now the voices of many in US Jewry, mainly those of the young generation. This is a community that was always a significant anchor for the state of Israel. The price of losing them could be too high."

The Genesis Prize has been awarded since 2014 to individuals for excellence in their professional fields and "who inspire others through their dedication to the Jewish community and Jewish values."

Previous winners have included former New York Mayor Michael Bloomberg, sculptor Anish Kapoor, violinist Itzhak Perlman and Hollywood actor Michael Douglas, all of whom donated their prize money to charitable causes.

Portman was born in Jerusalem and moved to the United States at age three.

The Associated Press contributed to this story.