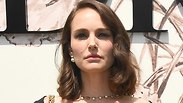 Natalie Portman
Photo: GettyImages
Natalie Portman: I'm skipping Israeli ceremony due to Netanyahu speech
After backlash, Israeli-born Hollywood actress says her decision not to attend Genesis Prize ceremony was 'mischaracterized by others,' explaining 'I chose not to attend because I did not want to appear as endorsing Netanyahu,' set to speak at the event; stresses she doesn't support BDS.
Oscar-winning actress Natalie Portman said she chose not to attend a ceremony in Israel to accept a $2 million prize in June, because she did not want to be seen as supporting Prime Minister Benjamin Netanyahu, who was scheduled to speak at the event.

Portman's decision, which she said was "mischaracterized by others," had caused a minor backlash in Israel on Friday after organizers of the prestigious Genesis Prize award ceremony said they cancelled the prize-giving.

The Genesis Prize Foundation had quoted a representative of Portman who said recent "distressing" events in Israel caused the actress to back out and that she would "not feel comfortable participating in any public events in Israel."

This led many to interpret her decision as connected to the international criticism of Israel for its military response to violent Palestinian rioting on the Gaza-Israel border during the last few weeks, in which 35 Palestinians were killed.

Some ministers in Netanyahu's right-wing government said Portman appeared to have been manipulated by the Palestinian-led international campaign to boycott Israel.

"Let me speak for myself," Portman said later in a statement posted on Instagram. "I chose not to attend because I did not want to appear as endorsing Benjamin Netanyahu, who was to be giving a speech at the ceremony."

Portman said she did not support the Boycott, Divestment and Sanctions (BDS) movement, which aims to isolate Israel over its treatment of Palestinians.

"Like many Israelis and Jews around the world, I can be critical of the leadership in Israel without wanting to boycott the entire nation," she said. "I treasure my Israeli friends and family, Israeli food, books, art, cinema, and dance."

"Israel was created exactly 70 years ago as a haven for refugees from the Holocaust," she said. "But the mistreatment of those suffering from today's atrocities is simply not in line with my Jewish values. Because I care about Israel, I must stand up against violence, corruption, inequality, and abuse of power."

She asked people to "not take any words that do not come directly from me as my own."

Portman said in her statement that the backlash has inspired her to make numerous contributions to charities in Israel. She pledged to announce those grants soon.

The Genesis Prize has been awarded since 2014 to individuals for excellence in their professional fields and "who inspire others through their dedication to the Jewish community and Jewish values."

Previous winners have included former New York Mayor Michael Bloomberg, sculptor Anish Kapoor, violinist Itzhak Perlman and Hollywood actor Michael Douglas, all of whom donated their prize money to charitable causes.

When Portman was announced late last year as the 2018 recipient, she said in a statement released by organizers at the time that she was "proud of my Israeli roots and Jewish heritage."

After announcing last November that Portman will be receiving the prize, the foundation announced a month later that the cash award was being doubled due to a contribution from Israeli philanthropist Morris Kahn.

Portman announced her intention to donate the money to organizations dedicated to promoting equal rights for women in education, the economy, health and politics.

Israeli philanthropist Morris Kahn, who contributed the prize, said the prize money will still go toward supporting the fight for equality for women.

"I do not support her (Portman) decision to cancel her participation due to what she calls 'the recent events in Israel,'" Kahn stressed in a statement.

"Along with the Genesis Prize Foundation, we will take care of the women's rights organizations for which the $2 million matching grants fund was created, and to which I contributed along with the Michael Bloomberg Foundation. Those will not be affected in any way. The prize will be transferred by the Genesis Prize Foundation and not by Ms. Portman, and I hope other philanthropists will support this important cause of equality and empowerment of women," he added.

Portman was born in Jerusalem and moved to the United States at age three. She won the Best Actress Oscar in 2010 for her role in "Black Swan". In 2015, she directed and starred in "Tale of Love and Darkness," a Hebrew-language film set in Israel based on an Amos Oz novel. Her success is a great source of pride for many Israelis.

The Associated Press and Yael Veltzer contributed to this story.