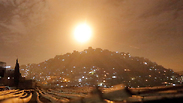 Israeli attack in Syria
Photo: EPA
At least 21 people were killed in Israeli strikes on Syria in the early hours of Monday morning, the Syrian Observatory for Human Rights said Tuesday. The UK-based monitor said the death toll included 15 foreign nationals, of which at least 12 were members of the Iranian Revolutionary Guards. Syrian state-run news outlets said that at least four Syrian soldiers were killed in the bombardment.

In an official statement, the IDF Spokesperson's Unit confirmed the strikes, and said the targets included munition storage sites, an area of Damascus International Airport, an Iranian intelligence site and an Iranian military training camp.

"During the strikes, dozens of Syrian surface-to-air missiles were launched, despite clear warnings to avoid such fire. In response, several of the Syrian Armed Forces' aerial defense batteries were targeted," the IDF said in a statement.

"Some of the sites we attacked were inside Syrian bases, from which Iran operates. We have also struck an Iranian facility in the Damascus international airport, while working in coordination with Russia according to standard protocol. We are prepared for any scenario and have bolstered our offensive as well as defensive systems," the army said.

Syria's military and Russia, Syrian President Bashar Assad's strongest ally, both said that at least four Syrian soldiers were killed and six wounded during the Israel Air Force attack on the aerial defense systems, however, apparently many Iranians were also killed in the raid.

The Russian Interfax news agency quoted Moscow's defense control center as saying that Syrian military air defenses destroyed more than 30 cruise missiles and guided bombs during the Israeli air strikes.

Israel launched the massive attack a day after Iranian fighters fired a surface-to-surface rocket at the northern Golan Heights.

The IDF said its aerial bombardment targeted "Iranian Quds military sites in Syria," and was a direct response to the rocket, which was intercepted by the Iron Dome missile defense system.

Meanwhile, Israel reopened the Mount Hermon ski site on the Golan Heights on Tuesday, after it was closed due to security tensions in the area. Visitors to the site on Sunday were witnesses to the rocket attack from Syria, whose interception by Iron Dome could be clearly seen in the skies above.

On Monday, Prime Minister Benjamin Netanyahu said "no country should remain quiet while it is under attack."

Speaking at a press conference with Ukraine President Petro Poroshenko in Jerusalem, Netanyahu said that "We will continue carrying out all of the required operations to defend our people."

In the wake of recent events, the United Nations, called on Syria and Israel to show maximal restraint to avoid escalation.

The IDF Spokesperson's Unit said that "Syria had paid a heavy price after it allowed Iran to operate from within its territory. Innocent Israeli citizens could have been hurt by the Iranian force firing just several dozens of kilometers from the border, after we were guaranteed Iranian troops will not operate from there."

Daniel Salami, Itay Blumenthal, and Ahiya Raved contributed to this article.