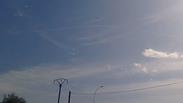 Alleged IDF strike in Syria
Syrian defense systems thwarted an Israeli air attack on Sunday in the south of the country, state media said, citing a military source. Short time later, a rocket fired at the northern Golan Heights had been intercepted by the Iron Dome aerial defense system over Syrian territory, said the IDF Spokesperson's Unit.

"Our air defense systems thwarted... an Israeli air aggression ...and prevented it from achieving any of its goals," the Syrian source told state news agency SANA. An Israeli military spokeswoman declined to comment.

Russia's National Defense Control Centre said the attack was carried out by four Israeli jets and targeted an airport in southeastern Damascus, RIA news agency reported. There were no victims and the airport was undamaged in the attack, RIA cited the centre as saying.

Footage of alleged IAF attack in Syria

The smoke trails of Iron Dome interceptor were clearly seen over the Mount Hermon ski resort that opened its doors to tourists earlier on Sunday. Although the site was not evacuated following the rocket attack, heavy military presence was reported in the area following the events. The new IDF Chief of Staff Aviv Kochavi was also making his way to the northern border immediately after the incident.

Iron Dome intercepts rocket fired from Syria (צילום: אטילה שומפלבי )

The Al Quds Al Arabi newspaper reported on Friday that Russia had conveyed to Israel its intent to renovate Damascus International Airport and warned the Israeli government against striking targets, believed to be Iranian arms depots, in the airport's proximity. According to the report, the Israel Air Force attacks prevent various Russian airlines from resuming their operations in the region.

Prime Minister Benjamin Netanyahu, who currently on a visit to Chad, said in a statement: "We have a defined policy: to harm Iranian entrenchment in Syria and to harm anyone who tries to harm us."

Netanyahu confirmed last week in a rare admission that the Israel Air Force struck Iranian targets in Syria last weekend, following Syrian reports of successful interceptions over Damascus.

The prime minister said that "in the past 36 hours," the IAF hit Iranian arms depots near Damascus airport. "The wave of recent attacks proves that we are determined more than ever to act against Iran in Syria," he told the weekly cabinet meeting in Jerusalem.

Netanyahu also said that the IAF has hit "hundreds" of targets belonging to Iran and its proxy Hezbollah in Syria since the start of Israel's campaign to thwart Iranian military entrenchment in the region.

The prime minister's statement came after Syria's state-run news agency SANA said the country's air defenses intercepted missiles fired by Israeli fighter jets last Friday night. The attacks reportedly caused damage but no casualties. SANA reported that "over eight targets" exploded over the capital, adding that most of the Israeli missiles had been intercepted.

An ammunition warehouse at the Damascus airport was reportedly hit, but a Syrian Transport Ministry official said to SANA airport activity continues as normal.

"At 11:15 before midnight Israeli warplanes coming from Al-Jalil area launched many missiles towards Damascus area and our air defenses intercepted them and downed most of them," a Syrian military source told SANA.

Syrian state media broadcast footage of what it said were the air defenses firing, with bright lights seen shooting across the night sky. Explosions were heard in one of the videos.

Associated Press contributed to this report.