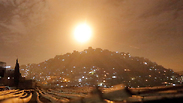 IAF strike in Syria
Photo: EPA
Israel launches massive bombardment on Iranian targets in Syria after rocket attack
At least 11 pro-Assad regime fighters said killed; Syrian military says four troops among the dead, claims to have destroyed 'most of the hostile targets' during Israel Air Force attack on Iranian Quds targets near Damascus; IDF says the raid came in response to rocket launched at Golan Heights a day earlier.
Israel said its warplanes launched a massive attack on Iranian targets in Syria in the early hours of Monday, the day after Iranian fighters fired a surface-to-surface rocket at the northern Golan Heights. The Israeli bombardment, which targeted an airport in Damascus, killed at least 11 pro-regime fighters, said the Syrian Observatory for Human Rights, a UK-based monitoring organization.

The Israel Defense Forces said its aerial bombardment targeted "Iranian Quds military sites in Syria," and was a direct response to the rocket, which was intercepted by the Iron Dome missile defense system. The Quds Force is in charge of the Iranian Revolutionary Guards overseas operations.

In an official statement, the IDF Spokesperson's Unit said munition storage sites, a site located in the Damascus International Airport, along with an Iranian intelligence site and an Iranian military training camp, had also been targeted.

The Russian Interfax news agency quoted Moscow's defense control center as saying that Syrian military air defenses destroyed more than 30 cruise missiles and guided bombs during the Israeli air strikes.

The IDF also said its jets came under fire from anti-aircraft missiles during the raid, prompting it to strike Syrian defense batteries. Syria's military and Russia, Syrian President Bashar Assad's strongest ally, both said that at least four soldiers were killed and six wounded during the IAF attack on the aerial defense systems.

"During the strike, dozens of Syrian surface-to-air missiles were launched, despite clear warnings to avoid such fire. In response, several of the Syrian Armed Forces' aerial defense batteries were targeted," Israeli military said in a statement.

IAF strike in Syria (צילום: דובר צה"ל)

According to Syrian state media, a Syrian military source said Israel launched an "intense attack through consecutive waves of guided missiles", but that Syrian air defenses destroyed most of the "hostile targets."

Witnesses in Damascus said loud explosions rang out in the night sky for nearly an hour.

Monday's overnight strikes followed cross-border attacks on Sunday in which Syria said it repelled an Israeli air attack, and Israel said it intercepted the rocket fired at the Golan Heights.

Prime Minister Benjamin Netanyahu said Sunday that Israel would hit back at anyone who attacked the country, and singled out the Iranian presence in Syria.

"We have a permanent policy, to strike at the Iranian entrenchment in Syria and hurt whoever tries to hurt us," Netanyahu said.

Following the attacks, the IDF said Monday the popular Mount Hermon ski site on the Golan Heights would be shut for the day. Visitors to the site on Sunday were witnesses to the rocket attack from Syria, whose inteception by Iron Dome could be clearly seen in the skies above. The army added that otherwise things remained "routine" along the frontier with Syria.

Netanyahu last week acknowledged an Israeli attack on what he called an Iranian arms cache in Syria, where Tehran provides Damascus with vital support.

He told his cabinet Israel had carried out "hundreds" of attacks over the past years of Syria's war to curtail Iran and its ally, Lebanon's Hezbollah.

Usually silent about its attacks on Iranian targets near its frontier, Israel has lifted the veil this month, a sign of confidence in a campaign waged amid occasional tensions with Syria's big-power backer, Russia.