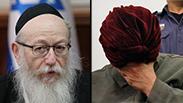 Deputy Minister Litzman; Malka Leifer
Photo: Alex Kolomoisky, Shaul Golan
Police question Litzman over help to teacher suspected of pedophilia
Deputy Health Minister Litzman is suspected of breach of trust and obstruction of justice after allegedly trying to sabotage the extradition to Australia of Malka Leifer, who is suspected of committing sexual offenses, including rape, against three female students.
Deputy Health Minister Yaakov Litzman was questioned by the police Thursday on suspicion he used his position and authority to sabotage the extradition to Australia of a Jewish teacher suspected of pedophilia.

Litzman is suspected of lying about the condition of Malka Leifer, a former principal of the Adass Israel School, an ultra-orthodox Jewish girls' school in Melbourne, who was charged with 74 sexual offenses she allegedly committed against three sisters between 2001 to 2008.

The deputy health minister allegedly sought to have a psychiatric evaluation done determining Leifer was unfit to stand trial, in a manner that deviated from his authority and contrary to regulations.

The police's National Fraud Investigations Unit in Lahav 433 launched a covert investigation against Litzman several months ago, during which they also collected testimony from doctors. These testimonies helped establish the suspicions against the deputy health minister.

Litzman's media advisor said the deputy minister was questioned in a case concerning a request for help from the public. "Litzman provided his full version and answered all of the questions, as required. Deputy Minister Litzman is confident in his innocence and will continue assisting with any request for help that reaches his office, in accordance with the law and existing regulations," he said.

The deputy health minister is suspected of breach of trust and obstruction of justice.

Leifer is facing trial for 47 indecent act offenses, 13 offenses of indecent assault of a minor, 11 rape charges and three additional charges. She fled Australia to Israel in 2008 under suspicious circumstances after accusations against her had surfaced, and has been living in the ultra-Orthodox settlement of Emmanuel in the West Bank since.

She was arrested in Israel in 2014 and currently awaits the completion of the extradition proceedings.

In 2016, a Jerusalem court determined Leifer was unfit to face extradition and trial. In March 2018, a psychiatric evaluation of Leifer found she was fit to face trial, and she has been in detention since.

Dassi Erlich, one of the complainants against Leifer, was angry to learn of the suspicions against Litzman. "Waiting this many years for justice has been tremendously difficult and painful. However we waited patiently with the understanding that these criminal proceedings take time. To learn that this may in fact be due to corruption at the highest levels of the Israeli government is truly devastating," she said.

"We hope this will be a significant step as the pieces come together to paint a clearer picture and bring us the justice we've been fighting for," Erlich said.