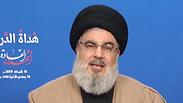 Hezbollah Secretary-General Hassan Nasrallah
Nasrallah: Israelis have no faith in IDF abilities
Speaking at a ceremony commemorating 'martyred leaders,' Hezbollah's secretary-general says the terror organization is capable of infiltrating the Galilee; Hezbollah-affiliated Al Mayadeen news channel releases new footage of deadly attack on IDF troops in 2015.
Hezbollah Secretary-General Hassan Nasrallah on Saturday boasted that the terror organization is capable of infiltrating northern Israel, even as Israelis are uncertain that their army can protect them.

"They (Israelis) don't trust their army, but we trust our resistance," he said in a televised speech. "They are certain that the resistance can enter the Galilee but they are uncertain that their army is capable of entering Lebanon, and this is a great transformation."

Speaking at a ceremony commemorating the group's "martyred leaders," Nasrallah also said that Hezbollah has the upper hand when it comes to deterrence its enemy from acting against it.

"We've become stronger in our battle against Israel," he said. "They say they have gathered a lot of intelligence about us. If they really knew what capabilities we have, they would have been even more deterred."

Hinting at former Israel Defense Forces ombudsman Maj. Gen. (res.) Yitzhak Brick's report about the army's preparedness for war, Nasrallah said: "Senior officials in the Israeli army are saying the army, and in particular the ground forces, are not ready (for war). Neither the officers nor the government, nor the soldiers believe in the Israeli army's capabilities. These are not my words, these are the words of senior officials in the Israeli army," he said.

Nasrallah stressed that Hezbollah has increased its ability to face off against Israel.

"Today the capabilities we possess are far greater than those all Lebanon's resistance forces had in 2000. They (Israel) are failing in their attempts to extinguish us. Neither money nor weapons make mothers send their sons to the battlefield. The secret of the resistance lies in its faith and spirit, not weapons and financial capacities. It lies in its readiness to defend and sacrifice, just like the case was in Syria and Iraq, and this spirit could never be defeated," he said.

"In 2006 and 2014, the Israeli army's ground forces, its officers, warriors and "chariots" sustained heavy losses, causing severe mental shock to its forces in southern Lebanon and Gaza," Nasrallah said in reference to the 2006 Second Lebanon War and the 2014 Gaza war.

In addition, the Iran-backed organization's secretary-general slammed foreign ministers and heads of states who on Wednesday attended the Warsaw summit on peace and security in the Middle East, presenting a united front against the Islamic republic.

"Israel leads terror, crime and wars in our region. In addition to Israel's relations with Oman, Bahrain and Saudi Arabia, of which we've already known, its relations with Yemen were also exposed, when the its foreign minister publicly sat next to (Prime Minister Benjamin) Netanyahu.

"The summit's goal was to take the Palestinian issue off the agenda. Netanyahu sent out a cry to his Arab partners, saying he planned to focus on the "common interest" of confronting Iran," he said in reference to the prime minister's use of the Hebrew word "milchama," or "war" in his comments during an off-the-cuff interview with reporters on a Warsaw street, however, his office later changed its official translation and said he was referring to a "common interest of combating Iran."

On Thursday, the Prime Minister's Office leaked a video of a closed meeting in which senior Gulf Arab officials play down the Israeli-Palestinian conflict, defend Israel's right to defend itself, and describe Iran as the greatest threat to regional peace.

Nasrallah blasted Bahraini Foreign Minister Khalid bin Ahmed al-Khalifa, who said in the video, "We grew up talking about the Palestine-Israel dispute as the most important issue. But then at a later stage, we saw a bigger challenge. We saw a more toxic one, in fact the most toxic in our modern history, which came from the Islamic Republic, from Iran."

Al-Khalifa went on to denounce the "neo-fascist regime" in Tehran, accusing it of plotting attacks in his country and destabilizing Yemen, Syria and Iraq. He also said that "toxic money, guns and foot soldiers of the Islamic Republic" have hindered progress in Israeli-Palestinian peace efforts.

Turning to the United States, Nasrallah said it too is struggling in its battle against Iran.

"Despite the stormy weather, the economic sanctions (The US is imposing on Iran) and the hardship, tens of millions of Iranians took to the streets to convey a clear message to the world that they are willing to sacrifice themselves in order to preserve the Islamic revolution Ayatollah Ruhollah Khomeini led 40 years ago and that Iran is stable and strong. The media in the Arab Gulf states completely ignored that message, but during the 2017 economic protests, the media provided coverage 24/7, announcing Iran's regime is about to collapse," he said.

New footage of the Kornet anti-tank missiles that hit an IDF convoy near the Har Dov area in 2015

In response to the hawkish speech, Avichay Adraee, IDF's Arabic-language spokesperson, said, "Nasrallah said Israel is deterred while speaking from his hiding place. Look at his picture and decide who's scared."

On Friday, Hezbollah-affiliated Al Mayadeen news channel released new footage of the Kornet anti-tank missiles that hit an IDF convoy near the Har Dov area, in close proximity to the Lebanese border in 2015, resulting in the death of Giva'ati Company Commander Major Yohai Kalangel and Sergeant Dor Nini. Seven other IDF soldiers were injured in the incident.

The incident occurred after the IDF launched an airstrike on Syria in retaliation to rockets and mortar shells fired from the war-battered country and Lebanon into Israel at the beginning of 2015.