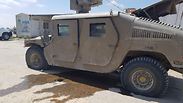 Bomb dropped by Gaza drone causes damage to IDF vehicle
Israel must launch a campaign in Gaza to counter dangerous drone threat
Analysis: UAVs operated from Gaza that can drop explosives endanger not only IDF troops but Israeli communities bordering the Strip as well; Israel must act as vigorously against this threat from the coastal enclave as it does against similar attacks from the north
The use of a drone operated from Gaza to drop a bomb on the Israeli side of the border fence is a disturbing escalation of events.

Israeli military was well aware that Gaza militants had this capability but didn't actually think Islamic Jihad would try to create a new equation where the use of drones was on a par with the use of rockets.

The use of drones is a new stage in the challenges posed by the Gaza factions to the IDF.

The first challenge were the rockets, but the military found an answer to that threat with the Iron Dome defense system. Then there were attack tunnels burrowing under the border, but the IDF found another expensive way to counter that threat - the NIS 3 billion underground barrier.

Now Hamas is entering the world of UAVs which poses a significant threat not only to IDF troops stationed along the border but to the residents of Israeli communities bordering the enclave as well.

The real solution to this challenge, like other threats originating from Gaza, is to restore Israeli deterrence and change the policy of containment.

This policy has been endorsed by Prime Minister Benjamin Netanyahu who wants quiet on the border ahead of the September 17 elections. IDF Chief of Staff Aviv Kochavi, however, can't accept it because one of his main responsibilities is to protect Israeli troops stationed in the area.

Kochavi constantly talks about the level of preparedness he demands from his troops, about the importance of engaging with the enemy and the need for actual military achievements and not only psychological victories.

The chief of staff, however, has failed to provide receipts of what he has accomplished in the Gaza Strip so far. Furthermore, he's in favor of reaching a long-term ceasefire arrangement with Gaza's rulers, but only after a military campaign that would restore the deterrence and prevent the terror group from extorting Israel.

Just two weeks ago, we saw how vigorously Israel foiled a dangerous drone attack launched by Iranians from Syria. The IDF's response to the UAVs from Gaza on the other hand, has been very minor in comparison.

In order not to allow Hamas to grow into a monster the size of the Lebanese Hezbollah, the threat of drones on the southern border must be addressed as soon as possible. We mustn't sit back and wait until move advanced weapons are transferred into the enclave, preventing a necessary Israeli campaign in the Strip.