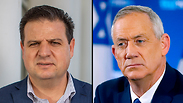 Ayman Odeh and Benny Gantz
Photo: AFP, Eli Dasa
Joint List: Gantz sought less support to push Rivlin to tap PM
Leader of the Arab-dominated party claims they were asked for 10 out of their 13 MKs to back Benny Gantz to form a new government since Blue and White believe if Netanyahu is tasked to form the coalition first, he will fail and lose backing of his allies
Leader of the Arab-dominated Joint List said Thursday the Blue and White party had asked the faction to give only 10 out of 13 possible recommendations to the president in order to allow Prime Minister Benjamin Netanyahu to be the first one tasked with forming a new government.

The alliance of Israel's biggest Arab parties ended the party's usual policy of withholding support for any candidate by backing Blue and White leader Benny Gantz during Monday's meeting with President Reuven Rivlin, who tasks the candidate with the largest bloc to form a coalition government.

The faction, however, later submitted a letter clarifying their recommendation does not include the three members of the far-left Balad party, which is part of the Joint List and strongly opposes the backing of Gantz.

"Blue and White asked us to make a recommendation of 10 MKs not 13, so that Netanyahu would be tasked with forming a government first," Joint List Chairman Ayman Odeh said in a Facebook post published Thursday.

"Blue and White believes that Netanyahu will not be able to form a government," said Odeh, adding that the prime minister's failure would make other parties reluctant to back him if there is a third election.

"There will be a lot of public pressure and Gantz will be the one to form the government."

Blue and White MK Ofer Shelah told Army Radio on Thursday the party didn't condition the Joint List on which MKs should make the recommendation or how it should be done.

"I spoke with Ayman Odeh and Ahmad Tibi and told them they are important to Jewish citizens and Blue and White will advance them," he said. "That's what we talked about with the Arabs."

President Reuven Rivlin on Monday announced that he had decided to nominate Netanyahu, foillowing a breakdown in negotiations on forming a unity government between the prime minister's Likud party and the Blue and White Party headed by Benny Gantz.