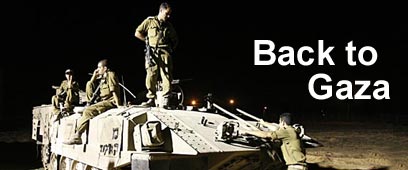 Gaza bridge destroyed in IDF attack
Photo: Reuters


IDF forces in Gaza
Photo: Tsafrir Avayov
VIDEO - Prime Minister Ehud Olmert said Wednesday that Israel has no intention of recapturing the Gaza Strip and that IDF forces will eventually retreat.
"Last night's operation will continue. No one who is involved in terror will be immune. We have one central goal – to bring Gilad (Shalit) home," he said.
Aerial Attack
(VIDEO) IDF warplanes attack Palestinian Authority infrastructures in framework of operation 'Summer Rains'; power station set ablaze, bridges targeted
The government has not set a timetable for the operation, but officials said it may end immediately – depending on whether Shalit will be released or not.
"The offensive's goals are the release of the kidnapped soldier and the prevention of Qassam fire on Sderot and the western Negev," one official said.
Government officials have stressed that the operation is limited in its scope, adding that it is also aimed at hurting Hamas' terror infrastructures.
"It was decided to launch the Gaza offensive after weeks of Qassam attacks against Israeli citizens and after all diplomatic efforts to release Gilad Shalit failed," an official said.
"In a situation whereby the Palestinian Authority is controlled by a terror organization that claimed responsibility for the attack in which the soldier was kidnapped, and after it became clear that the PA president (Mahmoud Abbas) is incapable of stopping the Qassam fire or returning Shalit home – Israel was forced to act on its own."
Foreign Minister Tzipi Livni urged the international community to press the Palestinians to release the kidnapped soldier.
"The motives for the operation in Gaza are not hatred or punishment but an attempt to release Gilad," Livni said during a meeting with US Attorney General Alberto R. Gonzales.
"Israel cannot accept a situation in which its citizens are attacked in their territory day and night; the country is acting in self defense."
"The fear for (kidnapped soldier) Gilad Shalit's well-being is increasing, and this is a primary humanitarian issue," she said.
Justice Minister Haim Ramon said Syria is hosting and sponsoring Hamas leader Khaled Mashaal, whom he blamed for Sunday's operation near Gaza in which two soldiers were killed and a third was abducted.
"The United States and the international community cannot stay indifferent to Syria's deeds - a United Nations member state supporting an arch-terrorist who brought about the kidnapping of Gilad Shalit and blocked his release," Ramon said.
Hanan Greenberg contributed to the report