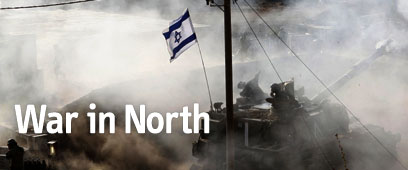 Majdel Krum resident holding Katyusha shell
Photo: Hagai Aharon

Monica Lerrer
Reproduction photo: Ahiya Raved
VIDEO - At least one missile fired from Lebanon on Thursday evening exploded in the northern city of Haifa, officials said. The missile landed under the cable car stop in the city's Stella Maris neighborhood.
The Hizbullah issued a statement soon after the attack denying responsibility for the fire.
Missile landing site in Haifa (Photo: Hagai Aharon)
Firefighters and rescue services who reached the scene of the attack didn't report any civilian casualties.
Earlier, six Katyusha rockets exploded in central Nahariya on Thursday evening as President Moshe Katsav toured the northern town.
In the latest attacks, rockets were also fired at Safed, where a building belonging to the Maccabi health services suffered a direct hit.
Nineteen Safed residents were injured in a barrage of Katyushas that exploded in the northern city, including one critically who later died of his wounds, hospital officials said.
At least seven people were lightly injured by a rocket that hit a building on Herzel street in Nahariya, including two who were lightly injured, police and paramedics said. Dozens of residents were treated for shock and smoke inhalation.
Smoke was billowing from the building but firefighters contained the fire and searched for people injured or trapped.
The other rockets hit an electricity pole and a car.
Kiryat Shmona was also hit by a Katyusha barrage.
Monica Lerrer, 40, died Thursday morning when a Katyusha exploded in a building in the city.
Some 90 people were injured, including one seriously, in rocket attacks on the city.
Sharon Roffe-Ofir contributed to this report