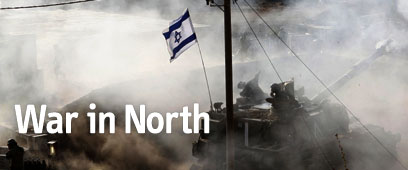 Haifa bay (Archive photo)
Photo: Hagai Aharon

Nahariya attacked
Photo: Niv Calderon
VIDEO - Some two million Israelis who live in northern communities from Haifa to Metula face the threat of rocket and missile attacks from Lebanon.

Northern Escalation

(VIDEO) Hizbullah missile lands in Haifa, no casualties reported; 6 rockets hit central Nahariya as President Moshe Katsav tours city, 7 people lightly injured in attack. One dead, 18 injured in barrage on Safed

Security officials said 120 Katyusha rockets were fired at Israel on Thursday, killing two people and injuring over 100.

Terrorists fired a missile at Haifa for the first time. Security officials estimated the rocket was made in Iran.

A man was treated for anxiety after the attack.

Northern residents have been asked to spend the night in shelters. In Akko, Haifa, Tirat Hacarmel and Nesher residents were ordered not to leave their homes and to follow the news for instructions by the security forces.

Minutes before the fire Hizbullah's al-Manar showed a new rocket which they said will hit "the strongholds of the Zionist enemy."

The Hizbullah said they fired a Raad 1 missile at Israel.

"That's the missile used by Hizbullah to respond to Israeli attack and to hit military strongholds of the Zionist enemy. The rocket is of 333 mm in diameter and has a warhead of 100 kilograms. Our fighters used it today when they attacked the military base in Har Meron which was severely damaged and set on fire."

A senior Military Intelligence officer told the Knesset's Defense and Foreign Affairs Committee that Hizbullah possesses thousands of rockets with a 20-kilometer firing range as well as some 100 rockets capable of reaching targets of 40-70 kilometers.

Israel threatened a tough response to attacks on northern communities.

Defense Minister Amir Peretz said Thursday following the rocket attack on Haifa, "We expected Hizbullah to break the rules and now we are going to break them."