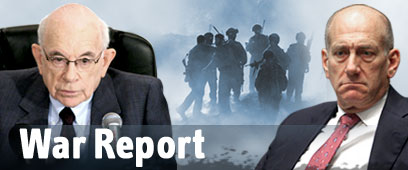 Winograd Commission
Photo: Gil Yohanan

IAF attack in Lebanon during war (Archive photo)
Photo: AP
VIDEO - Amnesty International called a report published Wednesday by the Winograd Commission on Israel's conduct during the 2006 Second Lebanon War "deeply flawed."

Video courtesy of infolive.tv

In a press release issued on Thursday, the organization said the report failed to investigate "a crucial aspect of the war - the government policies and military strategies that failed to discriminate between the Lebanese civilian population and Hizbullah combatants and between civilian property and infrastructure and military targets."

War Report

In Kadima faction meeting prime minister says Winograd Report is comprehensive, poses 'difficult questions.' Olmert stresses government working diligently to correct problems revealed during Second Lebanon War. Livni: We were not absolved yesterday

Malcolm Smart, director of Amnesty's Middle East and North Africa Program, said "this (report) was yet another missed opportunity to address the policies and decisions behind the grave violations of international humanitarian law - including war crimes -committed by Israeli forces.

"The indiscriminate killings of many Lebanese civilians not involved in the hostilities and the deliberate and wanton destruction of civilian properties and infrastructure on a massive scale were given no more than token consideration by the commission," he said.

According to the human rights group, the Winograd Commission had the power to subpoena witnesses and recommend the prosecution of officials it found to have been responsible for "willful or negligent criminal conduct", but instead chose to "limit its work to reviewing military strategy and political decisions, and made no serious attempt to investigate violations of international humanitarian law, including war crimes, committed by Israeli forces or to recommend measures for holding those responsible for such violations to account."
'A deadly legacy'
Amnesty International concluded that it was the Lebanese civilian population - not Hizbullah combatants - who paid the heaviest price of the Israeli army's attacks.

"Of some 1,190 people killed, the vast majority were civilians not involved in the hostilities, among them hundreds of children," the organization said, adding that "the overwhelming majority of homes, properties and infrastructure targeted in air strikes and artillery attacks were likewise civilian."

Amnesty contends that "the launching of hundreds of thousands of cluster bombs (by Israel), containing an estimated four million cluster sub-munitions (bomblets), in the last few days of the war left a deadly legacy.

"Although the Winograd Commission recommended that the army review its policies on the use of cluster bombs to ensure that the use of these weapons will not violate international humanitarian law and army discipline, it did not propose any concrete measures," said Smart.

In its statement, Amnesty International called on the Israeli government to "establish an independent and impartial investigation into evidence indicating that its forces committed serious violations of international human rights and humanitarian law during the conflict, including war crimes, and ensure that those responsible are brought to justice".

The organization also called on Hizbullah, "whose forces also committed war crimes during the 2006 conflict", to "renounce its unlawful policy of reprisal rocket attacks against the civilian population of Israel and ensure that Ehud Goldwasser and Eldad Regev, the two Israeli soldiers captured by Hizbullah fighters on 12 July 2006, are treated humanely at all times and are allowed immediate access to the International Committee of the Red Cross (ICRC)."