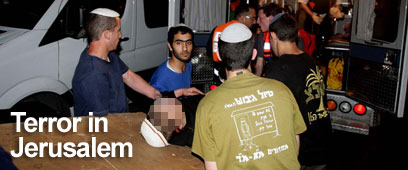 Yehonadav Haim Hirshfeld
Reproduction photo: Gil Yohanan

Doron Mahareta
Reproduction photo: Tsafrir Abayov

Blood stains at yeshiva
Photo: Avi Ohayon, GPO
Yeshiva head: This is continuation of 1929 massacre
(Video) Thousands gather Friday at Mercaz Harav yeshiva in Jerusalem to bid farewell to eight students killed in Thursday's terror attack. Mother of 16-year-old Avraham David Mozes says, 'God saw him as an angel, and we must thank him for the privilege of raising him for 16 years'
VIDEO - The police on Friday cleared for publication the names of the eight people killed in Thursday's terror attack at the Mercaz Harav yeshiva in Jerusalem.
Yohai Lifshitz, 18, of Jerusalem
Yehonatan Yitzhak Alder, 16, of Shilo
Yehonadav Haim Hirshfeld, 19, of Kochav Hashahar
Neria Cohen, 15, of Jerusalem
Roy Rot, 18, of Elkana
Segev Peniel Avihail, 15, of Neveh Daniel
Avraham David Mozes, 16, of Efrat
Doron Mahareta, 26, of Ashdod

Thousands of people arrived at the yeshiva Friday morning and to bid farewell to the dead, who were later laid to rest at the capital's cemeteries. The family members gathered outside the building and the eight bodies were placed on benches.
Bodies placed outside yeshiva (Photo: Dudi Vaaknin)
Rabbi Yaakov Shapira, head of the Mercaz Harav yeshiva, eulogized the eight students. "You are the holy of the holies, you are the yeshiva, the dear sons of Zion," the rabbi said. "This massacre is the continuation of the 1929 massacre, and the prophet's blood is still boiling.
"The time has come for all of us to understand that an external struggle is raging, and an internal struggle, and everyone believes the hour has come ... for us to have a good leadership, a stronger leadership, a more believing leadership," said Shapira, weeping.
The ceremony was attended by Religious Zionism rabbis, Yesha Council heads and several Knesset members, including Effie Eitam, Zevulun Orlev and Nissan Slomiansky (National Union-National Religious Party), and Reuven Rivlin (Likud), some of whom had studied at the yeshiva in the past. The government was represented by Minister Meshulam Nahari (Shas).
Mercaz Harav yeshiva following attack (Photo: Reuters)

Terror attack:

"God picks the most beautiful flowers for his garden," the mother of 16-year-old Avraham David Mozes said Friday. "He (God) sees him as an angel, and we should thank him for the privilege of raising him for 16 years. Sixteen years of purity and integrity and kindness."

Avraham was the son of Rivka Moriah and Naftali Mozes and the brother of five: Elisha Dan, 11; Ora-Dina, 6, Ayelet and Noam, 4, and Chai, 2.

Video courtesy of Infolive.tv

His step father, David Moriah, found it difficult to deal with the pain. Choking on his tears, David spoke of the family's "angel".

Testimony

Yeshiva students injured in Jerusalem terror attack recount details of Palestinian gunman's killing spree. 'I heard them screaming 'enough, stop,' recalls pupil

"Every Thursday I would go to the yeshiva to study with him. This week I wasn't able to make it. I also teach a class at the Horev yeshiva, and I sent him a test message telling him that we would complete the Torah studies on Saturday, because he was supposed to come home.

"He is a righteous, outstanding person," said David Moriah. "He always made sure to be 100 percent, both with God and with friends and people. He had amazing internal integrity. He was like an angel."



Horror at yeshiva library (Photo: ZAKA)

On Thursday evening, after hearing about the attack, they tried to locate their son, but to no avail.

"I heard about the terror attack while I was at a graduates' convention at the yeshiva I studied at. We knew he did not always have his phone, because he didn't want it to ring at the rabbinical seminary.

"He did not answer, but we were not worried at first because we thought he was busy studying. He usually does that. We called his friend, but he didn't answer as well. We then found out that the friend was also killed.

"And then came the stage so many people here go through. Unfortunately, the lists at the hospitals and the negative answer in all the hospitals, and then the hardest moment of all – facing the truth we did not want to receive. We are still in some kind of state of denial," David Moriah said.
Yehonadav survived by 12 siblings
Three buses left the community of Kochav Hashahar on Friday morning towards the Mergza Harav yeshiva in Jerusalem. Community resident, 19-year-old Yehonadav Haim Hirshfeld, who was killed in the terror attack, was survived by his parents and 12 siblings.
Hirshfeld was born in the community and grew up there. "He was a talented boy with great knowledge, clever, an admirable instructor at the Ariel youth movement," said the family's neighbor, Chaya Meir.
Seven people who were wounded in the attack remain hospitalized. Three of those injured are in critical condition, one is in light-moderate condition and another three sustained light injuries.
Members of Ethiopian community gathered Friday at the home of Doron Mahareta's family in Ashdod. Doron, 26, had studied at the Mercaz Harav yeshiva for nine years.
His sister Ania said that her brother was part of the reserve force during the Second Lebanon War. He was survived by his parents and seven siblings.
Neta Sela, Shmulik Hadad, Meital Yasur-Beit Or and AP contributed to this report