MDA personal arriving in Burgas
Photo: Carmit Reuven

C-130 Hercules
Photo: Carmit Reuven

ZAKA officers at the scene
Photo: ZAKA
Burgas – An IAF C-130 Hercules aircraft landed in Burgas, Bulgaria, Thursday morning in order to retrieve the Israelis injured in Wednesday's terror attack. By noon, the plane was en route to Israel, carrying 32 of the wounded.
Seven people were killed, five of them Israelis, and 34 people were injured, three of them seriously, when a blast tore through a bus shuttling Israeli tourists in the terminal of Sarafovo Airport.
Related stories:
Three of the Israelis, who suffered serious injuries, are hospitalized in Sofia. A second C-130, carrying Magen David Adom specialists landed in the Bulgarian capital in the early hours of the morning, in order to evaluate their condition and ascertain whether it is safe for them to fly.
Health Ministry sources said that the majority of Israelis are scheduled to land in Israel by Thursday afternoon.
The fatalities' identification process, headed by ZAKA, is ongoing.
A military source on the mission told Ynet that it includes military medical personnel, members of the Air Force 669 Search and Rescue Unit, Home Front Command officers and a cadre of IDF officers.
"We are working with MDA officials on the ground in order to facilitate the rapid transfer of the wounded to the planes and then to Israel," he said.
Meanwhile, a plane provided by the Bulgarians landed in Ben Gurion International Airport, carrying about 70 Israelis who escaped the attack.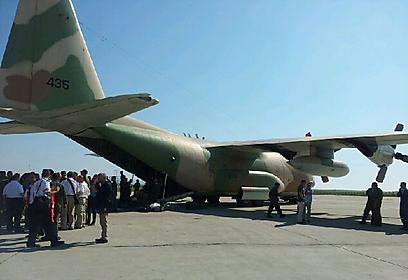 Sarafovo Airport closed immediately after the blast and elsewhere in Bulgaria flights headed to Israel were canceled or delayed. Air traffic between the countries is slowly returning to normal.
Following the attack, the Shin Ben has temporarily suspended all flights bound for Bulgaria, Croatia, Serbia, Greece, South Africa, Thailand, Turkey and Azerbaijan.
Ben Gurion Airport is gearing to receive the injured and is working with MDA to ensure their swift transfer to local hospitals.
Some 24 ambulances and medical teams are making their way to the airport ahead of the plane's planned arrival in the early hours of the afternoon.
According to MDA, once in Israel, 11 of the wounded would be transferred to the Soroka University Medical Center in Beersheba, seven to Haemek Medical Center in Afula, six to Laniado Hospital in Netanya, two to Assaf Harofeh Medical Center in Zerifinm, Edith Wolfson Medical Center in Holon and Sourasky Medical Center in Tel Aviv each, and the remaining two will be admitted to Rambam Medical Center in Haifa and Western Galilee Hospital in Nahariya.
Also on Thursday Bulgaria's Interior Ministry said that security measures in and around hotels where Israeli tourists are staying have been stepped up following the terror attack.
Police presence in the district of Burgas has also been beefed up.
Carmit Reuven is Ynet and Yedioth Ahronoth's special correspondent in Bulgaria
Receive Ynetnews updates directly to your desktop