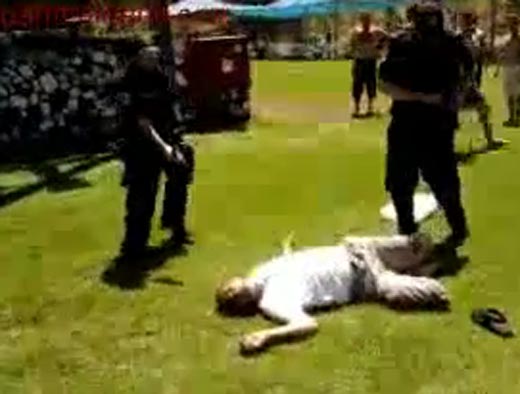 An east Jerusalem resident filed a complaint against policemen who he claims assaulted him with an electroshock weapon in a water park in Tel Aviv this week.
"They cuffed me and continued shooting even though I was not a threat," Talal al-Siad told Ynet. "My son was terrified. I heard him say, 'My father has been murdered.'"
The incident occurred following a mass brawl at the Meimadyion water park on Tuesday during which security guards had also been attacked. Police arrested three people in connection with the event.
Al-Siad, who was at the water park with his family, said he noticed police officers chasing after his neighbor, a man in his 20s, and spraying tear gas on him. "I put my son down to rescue the man," he recounted. "I approached the officers and asked them to leave him alone.
"One of them told me 'get out of here'. I told him they should be leaving as they were scaring the children."
"The officer then threatened me with a stun gun. I yelled back 'Do you want to shoot me?' he didn't hesitate and shot me in the stomach."
Al-Siad said this caused him to suffer from dizziness and nausea. "Despite my physical and mental condition they took me down to the police station, even though I was not involved in the fight."
He later decided to file a complaint with the Police Investigations Unit. "I hope they (the officers) get fired. They don't deserve to be officers. They caused me and my family mental damage. My children are afraid and are having trouble sleeping at night. The little one keeps saying 'don't leave the house so they don't hurt you.'"
Police said in response, "The video does not represent the whole situation. There was a mass brawl between two east Jerusalem families which left several injured.
Police officers were called to separate the sides and handle a crowd that encouraged the participants to become unruly and disrupt the officers. The person seen in the video attacked the officer and disrupted his work. A Taser was used to control him."
Gilad Morag contributed to this report